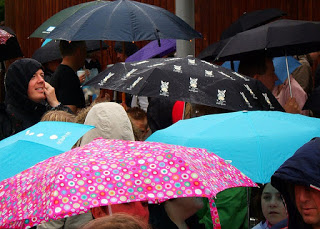 I'm going to be unoriginal and say that my spring essential is an umbrella! With all the rain we've been having in the UK, I've been putting mine up almost every time I leave the house.
I have a fairly sturdy automatic umbrella at the moment courtesy of a charity shop but it's quite big. I usually borrow my mum's compact umbrella if I'm carrying a smaller bag and making a short journey.
Both of them are plain black but I was disheartened by the short lifespans of my last two cute, purple umbrellas (to be fair only one broke, I lost the other). The last umbrella I owned before my current automatic one was a black compact one, also from a charity shop, and it lasted quite well until I broke it on New Year's Day hurriedly getting off a bus in Ealing. Caught it under the seat next to me and tugged too hard 🙁
My post Layering For Spring features outfits matched to umbrellas!