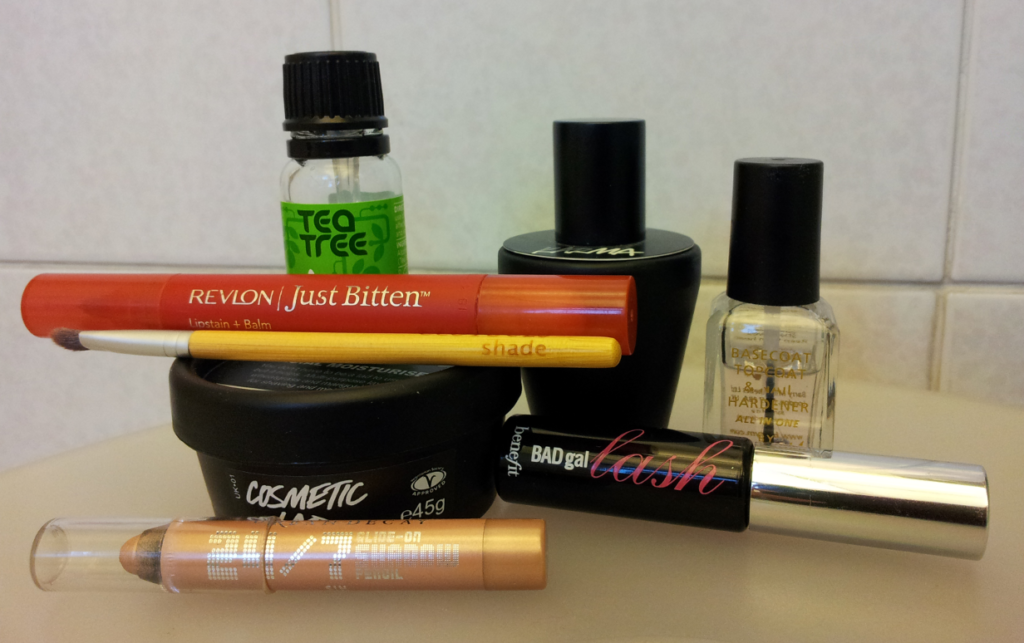 This is a bit behind the times, as I've been really busy recently, but hopefully some of you will still be interested though it has last year's date on it!
My absolute favourite new product of last year was the Revlon Just Bitten Lipstain + Balm in Gothic. After Sarah at SillyGrrl mentioned it several times, I tested it out in a shop and was smitten by its bright red stain. I love lipstains. They are lighter and more comfortable to wear everyday, and don't come off on mugs and boyfriends. I also like to apply them before lipstick so when the lipstick wears off, I still have colour underneath and it's not so obvious. I put this product on my Christmas list for 2011 and luckily I got one. It's not perfect – the drier skin on my lips absorbs more pigment from the pen so if I get lazy about lip care it can look really patchy, and the lid on the balm has slid off a couple of times in my make-up bag – but the bright red colour is just what I was hoping for. I wear this at least once a week, it's become my go-to lip colour.
I started using tea tree oil this year to battle my spots. The bottle pictured is the Superdrug blend, but I've also tried one from The Body Shop. They each have their own pros and cons. The Body Shop one has a much higher concentration of tea tree oil and works better applied to individual spots as its quite drying. The Superdrug one is less drying (despite containing alcohol) and I can use it on large areas. Confusingly, the Superdrug one says it is a blended oil, and it certainly feels oily, refusing to dry, but the only oil listed in the ingredients is tea tree, so I'm not sure what's going on there. I think that I might try buying the pure essential oil, which Superdrug also sell, and adding a few drops into the blended oil, but I also want to repurchase The Body Shop one as it dries properly and feels a lot better under makeup.
I recently started using Lush's Cosmetic Lad because the skin of my face was getting a bit dry with all the central heating and cold winds. I usually use Vanishing Cream but I felt it wasn't thick enough. I did try buying a cheap moisturiser from Simple, the Clear Skin Oil Balancing Moisturiser, but it was a disaster. Blackheads on my cheeks. Seriously. I have never in my life had blackheads on my cheeks before. On my nose and forehead, yes, but never on my cheeks! I do not have blackheads on my cheeks now that I've stopped using it (just a lot of tiny whiteheads). I don't think Cosmetic Lad is doing anything for my spots (I'm going to buy some Vanishing Cream to use at least some of the time) but it has really helped soothe my skin. I had a cold a few weeks ago and usually this means red nose and cheeks for at least a few days, if not a week afterwards, but I put on some Cosmetic Lad before going to bed and when I woke up my face looked normal! I was really impressed as this has never happened before, and I have tried all sorts to avoid the Rudolph look – olive oil, Savlon, layers of my usual moisturiser.
The Urban Decay 24/7 Glide-On Shadow Pencil in Sin is basically an portable version of one of my favourite eyeshadows that I can apply without a brush. It also makes a great base for the Sin eyeshadow when I want to give it a bit more oomph and works as an inner corner highlight. The downside is that these set really quickly so I have to do one eye at a time, which means that I usually put a bit more on one than the other.
The Ecotools Shade Brush (from the eye brush kit) is my brush of the year. I don't use most of the Ecotools brushes for their intended purpose. I like to use this one to apply highlight shades under the brow or in the inner corner. It's the ideal size for me.
The Benefit Bad Gal Lash is a mini that was free with Glamour magazine some time last year. I decided to try it after a friend recommended it and I was delighted. I don't know if I'll buy the full size because the brush on the mini is massive enough (though not as long as the brush for Revlon Grow Luscious, which is ridiculous) and I think Benefit test on animals, but it is a really nice mascara. I can apply multiple coats without any clumping at all, even if I leave several hours between coats (ie. if I put one on in the morning for work and then want to amp it up for the evening).
You can't really see the name in the picture, but that's Lush's Karma perfume. I love this stuff. It's so fresh and bright and spicy and delicious. It's such a strong scent that I can still smell it on me the next day. I also have the soap and body lotion (Karma Kream), plus a bubble bar in my stash. Yes, it's hippieish and laden with patchouli like an old goth but I think it is one of the nicest smells in the world and sometimes reach for my pot of Karma Kream just to sniff it!
Finally, I started buying the Barry M Base Coat, Top Coat and Hardener this year after getting fed up with Rimmel base coats drying out before the end of the bottle as they have no ball bearings. The only reason I stuck with Rimmel for so long was because I kept buying their base coat in sets or getting it as a gift. So much happier with the Barry M one. It dries fairly quickly, has TWO ball bearings, and was made in the UK.
Special mentions go to the products that have been my favourites for multiple years now: Lily Lolo foundation and concealer, Aromaleigh eyeshadows, Urban Decay eyeshadows (especially Sin), Bourjois eye pencils and The Body Shop lip balms. I particularly love Bourjois' liquid eyeliner Liner Pinceau, which I abandoned for a little while this year, but the much raved about Rimmel liquid eyeliners just do not compare!