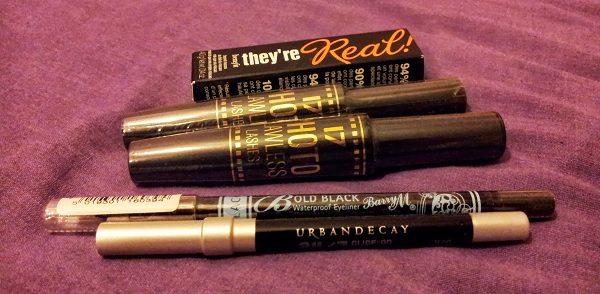 As much as I love watching videos and reading posts about other bloggers' enormous cosmetic collections, I want to avoid acquiring similarly massive stashes of make-up, hair and body products myself. My reasons:
1. Space – I live with my parents and most of my stuff has to fit into one room. Even when I move out, I'm unlikely to have the space for chests of drawers entirely devoted to cosmetics. I have a large collection of books and plenty of clothes, and a desktop computer and keyboard (as in musical) to make room for.
2. Money – I don't want to acquire loads of stuff that I will never use, simply because I'd rather spend the money elsewhere. Five lipsticks could be the difference between a weekend spent indoors and one one spent going out.
I've been in love with the colourful world of make-up since my teens, and am easily tempted by sparkly things, so I've tried and tested various techniques to stop myself from going overboard. If you too want to restrict your cosmetic collection, read on for my advice!
Take stock


Get out all your cosmetics and look at them. Make a list of what you've got, if you want to. I have a list of all my bath and body products, because I keep them in different places – some under my bed, some in my cupboard, some under the desk and others in the bathroom. Without the list, I would forget what I have, and buy more. Having a list also gives me the satisfaction of crossing products off when I use them up.
I don't have a full list for my make-up because it's all in one place and I like to get it out every now and then to visually remind myself of how much I have. I have counted everything though, so that I can easily remind myself that I don't need any more lilac nail varnishes, as I already have 10. It's also good to know that I have three unopened mascaras, and two unopened black kohl pencils, as new versions of these products come out all the time and as I use them a lot, I can think that I can justify getting new ones. Knowing exactly how many I have – enough to last me the next two years – gives me no excuse for new purchases.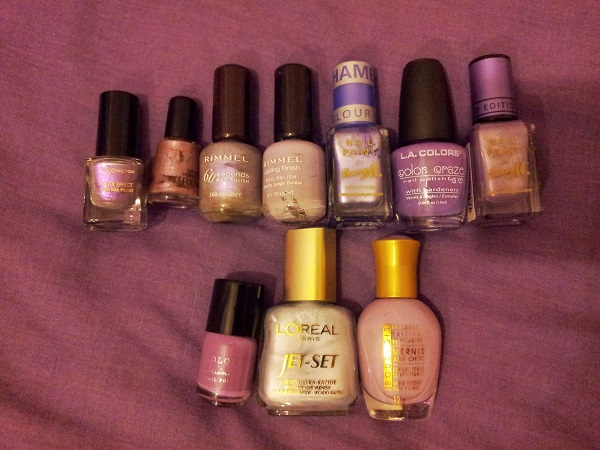 Use what you have/Shop your stash
If you read a lot of beauty blogs, you've probably heard about shopping your stash before. I have no idea who gave this concept its name, as so many people have written about the idea. There are lots of different methods to use, but I like to get everything out and look for items that I haven't used recently or have never used. I pick out one of each type – one eye pencil, one lipstick, one eyeshadow, et cetera – and put them into a box. Next time I'm getting ready to go out, my challenge is to look in this box, and if I can find a way to use one or more of those items. I'm not allowed to change the selection until I've used all of the items. Often I discover new favourites this way, so it can definitely be worth doing.
Notice what you use
The best way to do this is to keep a cosmetic diary, and/or take photos of your make-up every day. I know that I wear lilac eyeshadow a lot. It's easy to wear and appropriate for almost every occasion. I can buy more lilac eyeshadows if I want – though at the moment I won't because I have taken stock and know that I already have about eight or nine. However, as much as I love admiring sparkly dark green eyeshadows, I just don't get that much use out of them, and I'm not allowing myself to buy any more unless I hit pan on one of the three I already have. If you've never or barely used a product, and you've had it for a year or more, it's probably time to:
Give it away
If you don't use it, and don't like it, stop hoarding it and pass it on to a relative or friend who will. Alternatively, donate it to an organisation like Give and Makeup.


Sell or swap it on


If you could use some extra cash, or want something in return, host a blog sale, or find someone who has their own pile of unwanted make-up and set up an exchange.
Avoid temptation
Just don't go to the shops. This is a technique I employ successfully to stop myself buying piles of clothes, books, and basically everything else. I don't shop recreationally, or even to fill in time between activities. If I'm meeting somebody in town and they're late, I go to the library or a museum instead. But what about the internet? How do I cope with all those recommendations I get from friends, blogs, Twitter and YouTube? Well, I…
Have a wishlist instead of a shopping list
Whenever I see a review for a product that sounds great, I bookmark it in a folder I've made for my make-up wishlist. I have subfolders for different types of product. Then, when I have the space and the money for that product, I can find it again. For example, mascara. When I've used up all the mascaras that I have at the moment, and want to buy a new one, I can open all the reviews in my mascara folder and decide which one sounds best. I usually pick the one with the most positive reviews. It's much better than getting carried away by one particularly glowing review and rushing out to get something now, just because it's new.
No-Buys
I have regular no-buy periods, during which I am not allowed to buy anything at all. It takes a lot of willpower to stop myself from taking advantage of sales, but the strict no-buy helps. It's all too easy to decide to buy one product and then find myself adding extra products to my basket to take advantage of free postage or other special offers.
Shop smart
Google everything. This isn't a flawless plan, as sometimes good reviews can convince me to buy something I hadn't planned on purchasing before. But if you're on the fence about an eyeshadow, for example, seeing swatches can help you decide that it's not quite the colour you're after, or that it's too similar to something you've already got. And it's better to find out that it creases horribly on oily eyelids before you've wasted a fiver on it.
If you also know what you have already, you can avoid duplicating products. For example, I love Sleek's iDivine eyeshadow palettes. I think they're fantastic value for money. I have eight. But the last one I bought was the Glory palette last summer. Every other colourful palette that they've brought out recently has contained eyeshadows that I'm pretty sure I've already got in other palettes. Looking at the swatches posted by other bloggers confirmed this impression.
Project 10 Pan
This is another way of making a game out of using what you already have. You pick ten items and decide that you aren't allowed to buy any more make-up (within reason, most people have exceptions for foundation or mascara or other everyday products) until you have hit pan (got to the bottom of the packaging) on all of them or used them up completely. I'll admit that I've tried this a few times but have always given up – time to try again? Possibly with some of my 18 lilac eyeshadows?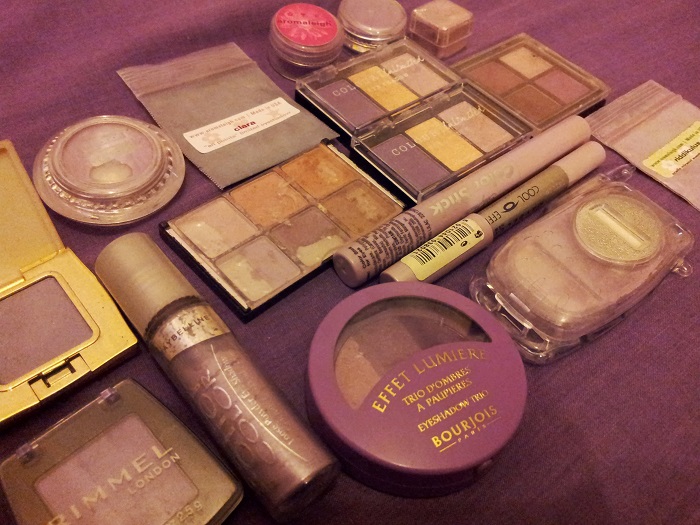 Have you set limits on how big you're going to allow your cosmetic collection to grow? How do you stick to them?