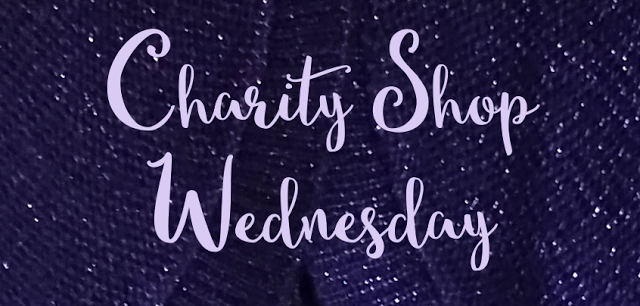 This week my Charity Shop Tuesday post is on Wednesday because I had to retake some photos! Oh, the blogger's life. Anyway, on with your irregularly scheduled content:
I love my boyfriend, but, if there's one thing I miss about being single, it's spending New Year's Eve with my friend Barinder. We lived together at uni and even afterwards we made a tradition of always celebrating NYE together. We went to the most random bunch of places:
We tried to go to see the central London fireworks, but were too late to get a good spot, so instead we said Happy New Year on the street. After a failed attempt to find somewhere in central London, we ended up in a pub in New Cross,where the music was terrible and the people worse. We left about 4 am, we would have left sooner except that we were waiting for a man who wouldn't leave us alone to go to the toilet and give us the chance to get away clear!
A cocktail club that had just opened – we got a Groupon for two drinks, but the first drink was the least alcoholic punch of all time (they may have let it sniff some vodka, that was all). Thankfully, my second drink was a very rumtastic mojito. We left when they started playing Shania Twain, and moved onto Bloomsbury Bowling Lanes, where some backpackers tried to chat us up and I taught Barinder my 'dance' to 'Telephone' by Beyonce and Lady Gaga, which basically involves acting out the lyrics.
Beach Blanket Babylon – a couple of years before it was on Made in Chelsea. They didn't have a cloakroom so we had to leave our coats with the guest-list woman. It was very pretty but men kept squeezing my waist as they moved past me. I counted, it happened 11 times.
Despite all the random stuff that happened and the high price of everything on New Year's Eve, I always had loads of fun. We'd always end up giggling and taking silly pictures, fending off weird men, and finding our way home in the small hours.
Another one of my NYE traditions – and one that endures, even now, is wearing something new-to-me for New Year's Eve. It would be far too expensive to buy a new party dress every year, so I hit the charity shops. Check out last week's post for all my tips for thrifting party dresses.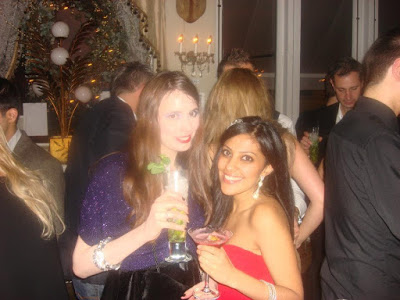 At Beach Blanket Babylon. Also I am a ghost.
In fact, in the picture above I am wearing no less than four items from charity shops: a black dress that you'll see in next week's post, the purple shrug that I'm going to write about today, some clear plastic bangles that I bought after a bunch of bloggers got obsessed with them, and a muffler. The latter will also feature in a future post, it's at my parents' house so I need to rescue it first!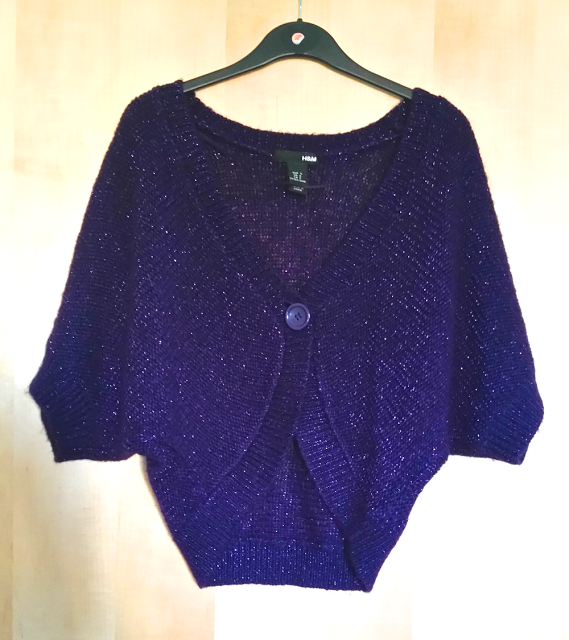 This shrug is a classic example of one of those items that seems like a good idea at the time but turns out to be slightly rubbish. It's purple! It's glittery! It's…itchy. Oh, metallic thread. I assumed that after New Year's Eve I'd mostly wear it in the summer, but because of the itchiness I don't want to wear it next to my skin. And it's not warm enough for winter with those short sleeves.
I should make more of an effort to work it into outfits, because it's so purple I can't bear the idea of redonating it. I suppose I could have a go at lining the sleeves. What do you think?