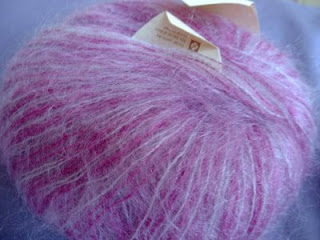 Oh baby.
Isn't it lovely? This is Rowan Kidsilk Spray in shade 574 and it is going to become one of these. I can barely wait to get knitting. Believe this picture, not the one on the Rowan website, which is ridiculously dark! I'm not even sure it's the same yarn, even though that's the right shade number – mine doesn't have a name on it. I have gone shopping a lot recently, to fully appreciate the wonder that is The Sales. However, now I have yarn I am sated, and there will probably be no more shopping until the January sales. Except in charity shops. I can't keep away from the cheap books!


Another highlight of the sales is this, pun entirely intended:
It was £12.99! Reduced from £40! It is so cool and not quite as garish in reality. It is in my bedroom at my parents' house at the moment but will probably go to live at my house with me soon because it would make my boringly beige room a little more interesting. People who have visited my room would argue that my room is not boring because it is decorated with Don't Panic posters, postcards, photos from art gallery leaflets and ephemera and ATCs I have received in swaps. However, it has only a naked lightbulb hanging from the ceiling! Ludicrous! I was going to make a Chandy, but now I have this I think I will leave that for another lightbulb.
I possess more things to hang from ceilings than I have space to hang them in. I must have about four different wind chimes – one that lights up, one that is a giant dream catcher thing, one with a wooden frog on top, and one with Minnie Mouse on top – yes, four. I also have a mirror ball and a purple star thing that you can put a candle inside, which I believe my best friend Claire got me at some point. The latter is totally cool but has never been hung! A crime for sure. Maybe I'll have to take down the giant dream-catcher-wind-chime at my parent's house and put that up for a while. Woefully my house is rented so I cannot make holes in the ceiling!
I also finally bought purple shoes. Oh yes. Purple shoes. I actually already have purple boots and purple ridiculously-heeled blingin' sandals (they really are blingin', believe me, if you saw the level of bling…). But I have never before had simple purple shoes. Enjoy and appreciate, ladies and other gentlefolk-