I know I told you I couldn't wait to get started on the Wisp in I GOT YARN, but when I arrived back at my house after that trip to the shops, my eyes landed upon my only unfinished object: this grey scarf that I had begun.
Shortly after I started knitting (or restarted, I should say, having originally learnt to do it as a child), my mum gave me this big bag of abandoned yarn. There were many different types, including several balls of this grey yarn and several of the same texture in blue, without any labels. It's quite rough (in comparison with merino wool, at least), so I decided that it was only suitable for scarves or bags. I preferred blue for a bag and grey for a scarf, so I looked through my books for a stitch pattern, having estimated the yarn's weight and looked up the appropriate needle size in Stitch N' Bitch. I chose daisy stitch, as seen in The Knitter's Handbook.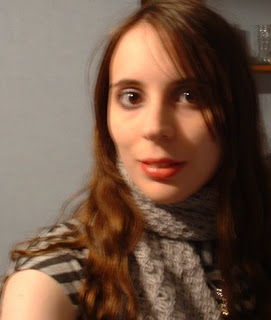 (< Scarf et moi, close up of pattern is below)
The scarf is 33 stitches wide and I knit through about four balls of yarn, so it's quite long. It is pretty thin, so it's best suited, like most of my scarves, to autumn and the warmer winter months. At the coldest times, only my chunky merino wool scarf will do. That was knit using a kit from Rowan, which included a How 2 Knit Big with Big Wool booklet and two balls of Big Wool. I recommend this kit to anyone who wants to learn to knit and produce something quickly. I love the warmth and texture of Rowan Big Wool, my only caveat is that it pills ridiculously and I find myself winding straggly bits back into the scarf.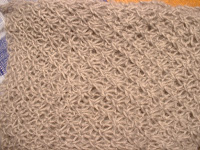 Whilst knitting the last ball of the daisy stitch scarf – which I did over several evenings, lying down on my bed – I listened to the CraftLit podcast, which is brilliant! Heather Ordover is an English teacher and tells you what to listen out for in each chapter and story, so it's like a really good English class where you're allowed to knit. She also has a great voice. I have listened to almost all of the Pride and Prejudice podcasts, in fact I have only one left to listen to. I've gotten so far on the Wisp now that hopefully I will finish whilst listening to that. For the hours I spend listening and knitting, I am in heaven. Literature and craft – could life get any better?
On a related note, I am really excited because only 366 people are ahead of me in line for a Ravelry invite! It's a social networking site for knitters and crocheters and loads (yes, okay, if you've read my blog before, you know what I mean by "loads" – THREE) of people who are members already have been talking about it and it sounds brilliant. I can't wait to be allowed in. It's sad but I've been taking photos of my yarn already! *tearful giggle*