This is the third in a series of colour themed posts. It was going to be one article about the colours I wear and the colours I wish I wore, but I realised I had too much to write, so it became a series! Be sure to check out the rest of the series – My Rainbow!
I see green as a neutral colour, not linked to any particular emotion. I do vaguely associate it with luck – four leaved clovers are green. I actually found one of those once, but one of the other girls on the school trip tore off one of its leaves, so now I have no proof, only eyewitness accounts! It is also connected in my mind with nature, and wearing it does make me feel more earthy. Because of its neutrality, I really enjoy wearing green, and I quite often do so. When I drafted this post I was wearing a pale green vest with my black skinny jeans, and a vintage silk floppy hat. Actually, I just put the hat on so I could mention it. It's too hot to wear a hat without making my head on and my hair prematurely greasy. The hat is a middle range sort of green; it couldn't be described as dark or forest green, because it is too bright. It has a big flower attached to it with a giant pin. I will photograph it for my upcoming hat post. Today I am wearing the same vest, with a black poofy skirt and maroon tights. I decided today as I got dressed that the green and maroon might look good together. It's a more unusual combination than I would usually go for. I was indirectly inspired by Ashe Mischief's post 'Rose Red and The Peacock Queen' on dramatis personae, which is about mixing red and blue, and her comment that I should not avoid wearing purple and yellow together. She's really helped me see that contrasting, "clashing" colours can look wonderful together.
Quite a lot of my favourite clothes are green. I have a long green tiered skirt from Summer 2005, when they were all in fashion. Mine has little pearlised beads on it, and it has a drawstring waist. I like to wear it with a plain black vest and a pink scarf. I also have a crinkly no-iron (= awesome) green top which I love and wear a lot as well. One of the 'going out' tops in my wardrobe is black lace with green mesh underneath. It was under £10 (£9.99, I think), from H&M, and is four years old. The elastic in the straps died the first time I wore it and had to be reinforced with ribbon. It looks a lot like underwear. Many people particularly appreciate this top; in fact I'm surprised it doesn't have an official fan club. The amount of compliments I get whilst wearing it is ridiculous, I am guaranteed to get at least two every time, and I can't think of a time it has failed.Such is the power of black and green. Use it wisely.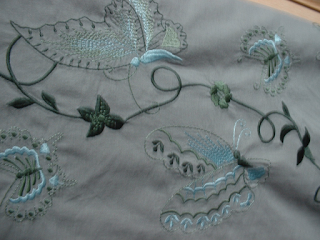 To the right you can see a slightly-blurry close up of the embroidery on a pair of green summer (lightweight) trousers. I got them before I grew my last couple of inches, so they swing around my ankles a bit. I love the embroidery too much to give them away. I think I am going to have to cut that section out and attach it to something else, or frame it and put it on the wall.
Green is my sister's and grandmother's favourite colour. The former has green eyes, of which I am very jealous. Once I had gotten over my early desire for long golden curls and blue eyes like an (scarily Aryan) fairytale princess, I decided that I wanted straight black hair, emerald green eyes, and a pierced nose. I was still in primary school and had just read The Illustrated Mum
, in which the narrator's sister Star gets her nose pierced towards the end of the book. I thought it sounded cool, and I knew I would never be allowed to get it done, which naturally made it even cooler in my mind. I assume that the green eyes and black hair part was a combination from my own imagination; I can't remember where I would have gotten that idea from. At the time, my sister had blue eyes, but they were starting to change, and within a couple of years, they were green. Not emerald green, but close enough. One day I might try green contact lenses. I think green looks good with all colours and shades of skin – there are so many different kinds of green and it doesn't fall into the categories of cool or warm. I really like green carpets, they remind me of grass. When I was a kid I liked to pretend I was walking on grass when I was walking on green carpet, and vice versa. However, I don't have many green things in my home. I've never particularly been a fan of green furnishings and of using a lot of the colour in interior design. Maybe I see green as an outside colour, and want to experiment with more "unnatural" colours inside. I've seen photographs of lime green interiors and objects, but although I like the colour, I've never felt drawn to have it in my own home. I can admire it from a safe distance!
My green obsessions:
Dark green hair – I would probably never dye my own hair dark green, but I've given a couple of fictional characters hair that colour. I can imagine it looking really nice with brown eyes. Really dark, almost black hair, that only shows green when it catches the light could look lovely on a real person.
A green beret – I have a confession. My name's Lady Julianne and I have a beret obsession. I was only mildly interested in them, but then I knit myself a black and purple one, and it's so cute I want more now. I'd really like a dark green beret, or maybe one in the same colour as the vintage silk hat (I really wish I could show you a photo, but I have no camera. I can edit it in at the weekend).
Some green artwork:Chance Meeting, Daughters, and Spring Forest
Are you a fan of green? What colours do you wear it with? I am really getting into wearing contrasting colours, so I think I will wear it with less black in future. Do you know anyone who has dyed their hair dark green? I want to see!