This is the first of a series of colour themed posts. It was going to be one article about the colours I wear and the colours I wish I wore, but I realised I had too much to write, so it became a series! Be sure to check out the rest of the series – My Rainbow!
Red is a colour I have spent a lot of time shyly avoiding and only recently begun to embrace. It's definitely not a colour for the timid – attention seeking, bold, and exciting. Associated with love, lust, strength and passion, it seems to me like a colour for women, rather than girls, and men, rather than boys. However, it can be dangerous – trashy and wild, as well as polished and sophisticated. In the Victorian era, red lipstick was seen as the mark of a harlot, the lady of the night, a "painted woman". Today, we associate red lipstick with glamorous, sophisticated women. Burlesque dancers, fans of retro and vintage fashions, wearing it perfectly applied and matching scarlet fingernails and toenails. It says "I might consider playing with you, but I'll never need you".
I believe there is a red to suit everyone. I've performed in my College's productions of The Vagina Monologues twice and I realised this the first time, when looking around at the cast, who all looked super-hawt in their red and black outfits. We had a truly diverse cast in terms of ethnicity, body shapes and sizes, and personal style, but everybody looked fabulous and really suited their shades of red.
So how much do I wear red? Not a lot, it's difficult to find a red I actually like to wear – I don't like orangey reds, and they don't suit me. I need blue-reds and pink-reds to suit my cool skin tone, but I want as pure a red as possible, for the maximum impact.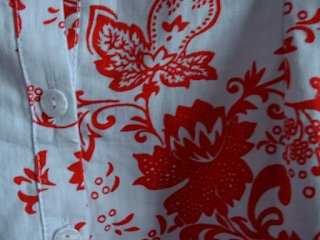 I love wearing red and dark pinkish-red lipstick, but finding good red lipstick is difficult. It was big news a year or so ago, when Dita Von Teese and Christina Aguilera-in-pin-up-girl-mode were the icons everyone wanted to imitate, but now "natural colours" are fashionable again, or so L'Oreal claim in their adverts. I hate "natural colours" – firstly, they're mostly for warm skin tones – my lips are pink, not brown. Secondly, what's the point? If I want my lips to look natural I won't wear lipstick!
Above you can see a photo of my first foray into red clothing. Okay, it's a red-on-white print, which is an easy option, I know. They did have the same dress in Debenhams with the print in black, but it didn't look as good so I decided to take a deep breath and go for the red. And I love it! The red is a little orange, but it doesn't matter because it's only a print.
My red obsessions:
Red lipsticks – I wear Rimmel's Volume Lipstick in 'Screamer' (nice and classy name!), a pinky-red and Rich Moisture Lipstick in 'Diva Red', which is a true red, but I think they've been discontinued, and they're not very good quality. I really only bought them because my local pharmacy was selling them for £1 each. I am really interested in the lip stains, glosses and lipsticks that B Never Too Busy To Be Beautiful produce, they have a lot of different reds, and I've heard their shop assistants are really helpful. When I use up the cheapo Rimmel ones and get some money (student loan, three weeks, can't wait) I will go and pay them a visit. Tip: Always use lipliner and apply red lipstick with a brush. It looks best when it's perfect. Oh, and don't put it on then run anywhere with your hair loose…
Red berets – So French, so awesome. I want to knit one, but red yarn isn't the easiest to find (John Lewis tend to stick to having pastel colours in stock) and I don't want to buy it without seeing what the colour looks like in real life. If you read my I GOT YARN post, and compare the photograph I took of the Kidsilk Spray with Rowan's photograph of the same shade of yarn, you will see why.
Red shoes – Because of the story, of course. I think they would look really good with a red beret, or…
A red umbrella – How sophisticated is that? And this? I don't think it is possible to articulate my awe. Since my Snoopy umbrella (It was a gift! Stop snarking!) broke, I am holding off on buying a new one until I can find the perfect red or purple umbrella. I really want one in each colour. Purple for purple outfits, and red for all the others.
Red wine – Cheap red is so much more palatable (in my humble opinion, of course) than cheap white (eurgh), and I always feel so classy holding a glassful and a conversation. More likely to give you a hangover, but I think it's worth it.
Red hair – It looks beautiful with bright blue or purple clothes. I am slowly henna-ing my hair thanks to Lush's Reincarnate, which seems to be working, but I am tempted to henna it properly. I know it won't ever look too extreme because my hair's too dark – it laughs in the face of temporary dye – so I might go for it.
Red Songs (I searched "red" in my Winamp…):
Emilie Autumn – Rose Red (ridiculously catchy, and passionate)
Cold War Kids – Red Wine, Success (I am obsessed with red wine, what more can I say? This song wins just for the title)
How do you feel about red? What colours do you wear it with? I've only ever worn it with white and black, so I'd like to know if you do anything more interesting.