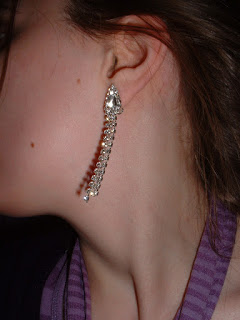 Read about options for the unpierced in Earrings For The Unpierced: Part One!
The majority of my earrings are screw on. The other options are all too painful or too crappy looking in my opinion, and screw on earrings are as versatile as clips, but without the pain. On the right you can see my mole-y cheek and my fanciest pair of earrings. These are special occasion earrings for three reasons:
1. They are seriously blingin'.
2. They were £8.50, I consider this expensive for jewellery, so I do not want to lose them.
3. One of the screws is broken so it's like wearing one screw-on and one clip-on earring. Ugh.
I got them in a little craft shop that used to be on my local high street. Unfortunately, it has now closed down. Fortunately, Etsy exists!
The majority of screw-on earrings on Etsy are vintage. As I mentioned before, earrings for the unpierced are rarely made today. These antique Czechoslovakian earrings are from the 1920s and look quite heavy. A great advantage of wearing screw on earrings rather than pierced earrings is that it is possible to wear heavier designs without causing yourself pain. If you don't like purple, here is a blue and gold tone pair, also Czech. I don't like wearing gold coloured jewellery myself, but if they were silver coloured I would be all over them! Moving on a decade, this Sterling Silver Mexico Jade set includes bracelet and earrings, and is in an interesting Art Deco style. I think it would look great with a all-black outfit so that the jewellery was the centre of attention. Forward another decade and we have these Juliet Red Crystal earrings, which look to be in excellent condition.
I also love these sweet Teapot earrings, if only they were in silver, along with these Golden Chrysanthemum Earrings. Sigh. I am very tempted by these Pearl and Copper Swirl earrings (love the rhyming name) and the seller has several lovely unpierced earrings in her shop.
For more screw on earrings I recommend you search Etsy and eBay, try Glitzy Secrets for clip-ons, and for magnetic earrings try eBay again.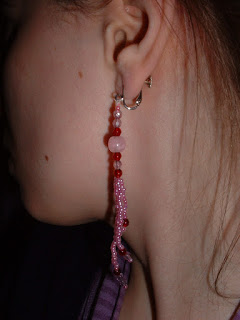 Alternatively, you can try making your own! Here is a pair that I made myself. I'm really proud of these and I love them. I got the earring findings/backs from a local craft shop but if you don't have a local craft shop or it doesn't stock screw-on earring backs, there are plenty of places you can get the findings online (the Two Es – Etsy and eBay – again, for instance).
The design is based on one from the book Creative Beading: Over 60 Original Jewellery Projects and Variations
by Juju Vail. I originally picked it up because "Juju" is one of my nicknames. Seriously. I am a complete nerd. The designs in it are pretty and modern, and the instructions are really clear. Projects include earrings, necklaces, bracelets, and rings and variations are suggested for each of the designs too. I also really like the ideas for weaving large beads out of small beads. It's a great book and I recommend it whether you are a beginner or more advanced.