I've been too busy to read blogs for the last week as I've been redecorating! Would you like to see?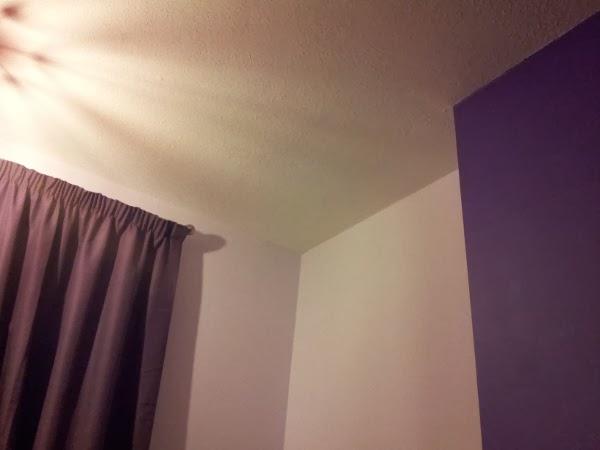 Okay, that was just a peek as it's not quite done yet – I need to empty the boxes and arrange everything to my liking. But to my great relief, the wallpaper hanging, the painting, the curtain hanging, and the carpet mending is OVER. I chose Dulux Violet White for my walls, with the exception of the "feature" chimney breast, which is Purple Pout. My curtains are from John Lewis and I'm really happy with them. In my mind, I was quite attached to the idea of having velvet curtains but I couldn't find any ready-made anywhere, so in the end I went for these, which have an almost metallic look and complement the rest of the purple stuff perfectly.
Anyway, I've been spending my free time working on my novel and occasionally sparing a few moments to look at pretty things online.
I saw this cute brooch featured on sparklyvodka, and even though it's not my style, I went onto the Ginger Pickle website anyway. I love the glittery cat necklace featured in the photo with the black one, but it doesn't appear to be on sale, and now I've seen the glittery one I could not possibly settle for plain black. The Minimalist Silver Moon Necklace would be the perfect gift for one of my best friends – if I didn't want it myself. Dilemma.
I then went straight to Eclectic Eccentricity, a online shop I have bought from before. If you like gold-toned jewellery, you must check it out as they have some really lovely designs. Unfortunately, I am all about silver, and the only thing they've got that I like is this ring, which I really like, but it's adjustable, and when I bought a adjustable ring from Eclectic Eccentricity before, it was a bit too small. It's very pretty, but I can't wear it on my index or middle fingers, and I usually wear another ring on my ring finger, so it doesn't get much wear.
Clothes! I have bought a couple of dresses from Phase Eight secondhand, and I have loved wearing them so much that I now regularly find myself looking longingly at all the pretties on their website. They have a store near me, but it never seems to get the good stuff and I hate buying clothes without trying them on first. I'm currently completely obsessed with the Flavia dress. I also love this dress from Monsoon.
Ahhh! I keep looking at things I don't need – dresses and jewellery – and avoiding items that might actually make it onto my Christmas list, mostly because I have no idea where to start.
For instance, I want a backpack, but a pretty one, not a sporty one. Yes, it needs to be pretty big and pretty sturdy so that I can haul it across London to my boyfriend's a couple of times a week. But I also want it to go with my clothes, so it must be looks-pretty too, preferably in purple, black, or grey. If you have any idea where I might buy such a thing, please leave me a comment!
I also need a new winter coat, preferably in bright purple or red and made of wool. I've been happily wearing my 'smart' red winter coat for the last five winters. But then I took it to the dry cleaners a couple of months ago, and it shrunk. I can still wear it, but I won't be able to get all the layers under it that I need to keep me warm, so it's been relegated to the autumn coat leagues. I am always going to buy at least one size up in future. This must not be allowed to happen again! I'm afraid that the coat hunt is going to be even worse than the backpack hunt as I have very long arms. Any suggestions? PLEASE.