I knit this hat from a pattern in the book Domiknitrix
. I bought the right weight yarn – aran – I checked on Ravelry. I got some Rowan Scottish Tweed in 013, from the sale bin at John Lewis Bluewater. It's this lovely dark red with flecks of other shades and the occasional blob of purple. I used the right size needles. I even checked the gauge! I often can't be arsed to check the gauge! I measured my head. I decided a small was the right size. I cast on. You can never really tell the size when you've just cast on. I did the picot band. I did a few rows of the hat body, and then I stopped.
It was clearly coming out too big. Damn. So I knit the rest of the hat, so that I could judge exactly how too big it was. I looped the thread through the cast-off part without cutting it, and I took this horribly blurred photo, so you too can see exactly how massive this hat came up.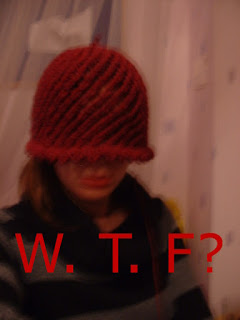 It covered my nose and I could fit both fists inside it at the same time as my head. Bemused and amused, I took it off, pinched it about to see how much less fabric there needed to be, did the appropriate maths, and then frogged it. I left it a couple of days because I was feeling annoyed, then made sure I had plenty of episodes of I Should Be Writing on my mp3 player (I'm catching up on the archives), and cast-on, for attempt number two.
I am delighted to say that my maths did the trick perfectly! I took another horribly blurred photo to prove it!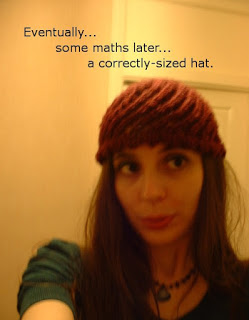 I must learn how to use self-timer or remote control on the dSLR, so that I can show you decent photos that are not taken at arm's length. My camera has self-timer, but you have to put it on again after every picture and I can never be arsed to try it more than twice.
But isn't the hat cute? I love it! Nobody else in the blogosphere or on Ravelry has reported sizing issues with this pattern, so I will blame my small head and probable inability to accurately measure it. I will review the whole book once I've tried a few more patterns, but I really enjoyed this one and wanted to show you my work.
I wore it the day I finished it with this teal-green cardigan (Topshop via Red Cross shop), a black vest top, my grey and black striped skinny trousers (H&M), and a red bag. The only full outfit photos that got taken that day were in purikura booths, and I haven't been e-mailed them yet. When I do I will show you, or I may just wear that outfit again as it was hot!