Twas the night before Christmas
And I could no longer pretend
That it was still October
The year far from its end
If I'd been prepared I would be now in my bed
While visions of domestic bliss danced in my head
Mamma would be happy, and Papa so pleased
And the holidays would feel just like a breeze
I crept around trying not to make a clatter
I'd be embarrassed if anyone knew what was the matter
"I'm too old for this," I'd cried, "The magic is gone"
But in my heart, I knew I was wrong
I dug out my old tree; removed red and gold
The bedraggled remains from tinsel of old
Tied ribbons to the branches, draped paper underneath
I had no time to DIY a wreath
I was so hurried, I had to be quick
The thought of missing out made me quite sick
I cut paper snowflakes as I caught up on TV
For a few hours Twitter did without me
Now dashing, now dancing, prancing to the rhythm
Of free Christmas-themed music, that was a given
But I needed inspiration for my Yuletide craft
As I found it online, I happily laughed
"How silly I was, to believe it couldn't be done,
The season isn't over, and now I have won
My quick and cheap decorations cheerfully adorn my room
I have cleared away all my pre-Xmas gloom!"
It could be Christmas morning. Or the night before. Afternoon of. Boxing Day. Do not despair, you can still get into the Christmas spirit before it is too late. I speak from personal experience here.
Put Some Music On
Do it, right now. I recommend The Best Christmas Album In The World…Ever!
but if you can't bring yourself to embrace the cheese and/or it's too late to obtain a copy of said CD, independent music is here for you. Filthy Little Angels have just made their most recent Xmas-themed compilation available to download, check it out here. They have been releasing a Xmas-themed free album every year for a while and you can find all the others, plus more non-seasonal music on this page. If that's not to your taste, look around, ask your friends, or don't bother with theming it, just turn up something you like so that you can boogie around and get in a celebratory mood.
Get Costumed
Wearing red and green together usually makes one look like one is celebrating Xmas, no matter what the time of year. Embrace this fact, dress up, then check yo' fine self out in mirrors as often as possible. If you don't own red and green clothing, try silver or at least grey instead. Get out those fairy wings, or make them now. Draw holly, Christmas pudding or present boxes on your face with eyeliner. Glitter is an absolute must.
Decorate
This is so easy. First, keep your music on or find yourself some Christmas telly to watch. I recommend that socalist masterpiece Mrs. Santa Claus (she helps child labourers and joins the women's suffrage movement! Brilliant!). Next get a pile of magazines. You don't have a pile of magazines? Junk mail will do, ditto newspapers, old wrapping paper, any kind of paper, but try to recycle, and printed matter will look more interesting. Cut out lots of circles of varying sizes, and then make paper snowflakes from them. Don't remember how to do it? Papersnowflakes.com has more information on them than you can shake a candy cane at. I blue-tacked mine on the corners of my bookshelf and on my mirrors, but try attaching them to banisters and sprinkling them over tables – they'd look especially nice over a plain tablecloth. You can make other shapes as well, and if you like paper chain tutorials are all over the internet, but I find the snowflakes more fun and more modern looking than traditional paper chains. Perhaps you could make a snowflake-chain!
If you have any tinsel, find something unexpected to wrap it around. Get out a tree if you've got one and decorate – failing that bring in a dry log and cover it with glitter and surround it with candles for a centre piece. You can even just tie bundles of twigs together with ribbon and hang them about. I have a mini plastic tree, which surprisingly requires some imagination to decorate – most decorations are too small. This year I tied on some blue ribbons that I saved from crackers last year, sprinkled on some bits of tinsel, wrapped a piece of lilac velvet around it, and topped it off with some butterfly hair clips I bought as a teenager. It makes the perfect fairytale tree.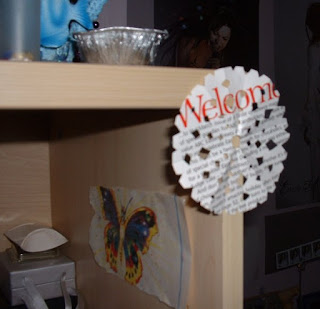 A snowflake made from a ancient supermarket magazine (the chain no longer exists!) adorns my bookshelves. Tree wouldn't photograph well…will try again tomorrow!
Find A Reason
A reason to appreciate the holiday. If you're not religious, research the secular traditions of the season. Think of it as laughing in the face of the credit crunch, or as embracing your inner child. Or both at the same time. Maybe you can find joy in the fact that Xmas means a Doctor Who special, and/or in the excuse to eat parsnips – I certainly do. Only engage in this serious thinking after you have done the previous three things – it will be easier if you've already cheered yourself up. If you sit down to muse on the meaning of Christmas to you without already being a little bit excited, it'll be harder to get enthusiastic. Fake it til you make it, baby!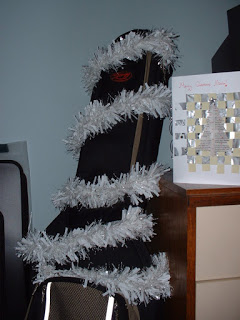 My sister's guitar gets into the spirit, and the card I made her sits beside it
Make Cards
Even if you don't actually use these 'til next year, it's still a fun activity. My sister and I made each other cards, here is mine. It's inspired by a tutorial in the e-book Stunning and Simple Seasonal Salutations: 10 Holiday Cards in Ten Steps or Less, which you can download for free, thanks to the lovely peeps at Artella.
Featuring 10 beautiful handmade cards, complete with photos and descriptive "how-to" instructions, showcasing a variety of techniques such as rubber stamping, collage, and innovative paper and mixed media arts.
Download your copy here!
Make Gifts
Okay, so it's too late to make it to the shops, which leaves you with few options:
1. Gift certificates that can be e-mailed to the person
2. Make something
The first option you should be able to manage by yourself! A great collection of tutorials to help you craft Xmas gifts can be found at Sew, Mama, Sew! Here is the Handmade Holidays 2008 list.
But let's take a moment to be realistic. What can you make that is cheap, relatively quick, and created from, erm, ingredients that you actually have in your home? That's right. Food. Biscuits and cakes in particular. Check the contents of your cupboard, and return to the internet to get recipes.
If you have any spare notebooks, decorate them for emergency gifts, or offer your practical skills as presents, you can easily design and print or hand decorate vouchers for your own services. Bargain Queen Meg has more ideas.
Make Drinks
You in the mood yet? If so, great, top off the cheer with an appropriate tipple or two. If not, this should do the trick!
I love mulled wine. This is Delia's version, which I'm sure works very well, but personally I like to be a bit more experimental. Basically simmer for at least 20 minutes (I do it for longer so that I can taste-check) a combination of the following things: red wine, cinnamon (stick or ground), mixed spice, nutmeg, cloves, apple juice, orange juice, lemon juice, bits of the fruit instead of/as well as the juice. You can put water in as well if you want it to go further, and sugar if you like it sweet. I like to taste it as I go and add extra bits of anything I feel doesn't have a strong enough presence. You can top up the alcohol after it's done with gin or fruit liqueur, or alternatively you can use cranberry juice instead of red wine for a alcohol-free version. Or use cranberry juice and then add other alcohol once it's heated. But one of the greatest things about mulled wine is that you can use the most hideous 3 for £10 wine and simply add plenty of juice to water down the strong taste of cheap!
"The cards are made, and given away,
I think I deserve some mulled wine today"
Merrily I cried, after sampling this delight,
"Happy Christmas to all, and to all a good-night."