This review has been a long time coming. I've actually been using most of the products I'll feature in this post for over a year. I read about Lily Lolo several times on various online forums before I decided to purchase some foundation, concealer, highlighter and finishing powder samples. Lily Lolo as a company is widely recommended to people in the UK who are interested in mineral make-up because their products are some of the cheapest available. Lily Lolo is also recommended a lot on forums to people who are either really pale, or have darker skin than is properly catered for by the chain store brands.
I am really pale, and I've actually gotten paler over the last year – I blame the absence of a proper summer for the last two years. Before I used Lily Lolo I tried various Rimmel foundations (whichever was the cheapest in the shop when I needed some) in the shade 'Ivory', which always looked orange by the end of the day, especially on my forehead. I only used to use foundation on special occasions (ie. if I was going to a ball or clubbing or something), the rest of the time I'd just use the 'Ivory' Rimmel concealers and when I did use foundation I'd put loads of concealer on as well because it was slightly more pale. I used their 'translucent' (read: a pale shade of ORANGE) powders on top, until I found the L'Oréal True Match powder range, their 'Ivory Rose' shade was much better, but I used to have to put masses on to combat the orangeness of the foundation.
Foundation
Discovering Lily Lolo solved all my foundation problems. First of all, you can order samples, which are generous enough to last a few weeks. This means that I could check my face in natural light, artifical light, mix shades, work out my best match. My best match at the time was mostly 'Porcelain' with a pinch of 'Candy Cane' thrown in just to darken it a bit. However, I just ordered a full size of 'Porcelain' because I decided the sample of 'Candy Cane' was enough to last me ages if I only went for the best match on special occasions (balls, nights out clubbing, etc!). You can only order samples of each product/shade once. I think it was in September 2009 that I stopped using the 'Candy Cane' at all because I'd become so pale that 'Porcelain' on its own was my best match.
The foundation is really cheap, in my opinion. £12 for 10 grams of foundation may sound like a lot but one pot lasted me over a year. I think of it like a deposit paid for a year's worth. L'Oreal Pure Match foundation would be £19.99 for 10 grams but they don't sell it in sizes that large. At this point I think I should say that various companies in the USA do sell mineral foundation that is cheaper. But then you have to pay postage, and your order can't be more than £18 or you're liable for customs fees.
I really like this. When I'm wearing it it feels nearly the same as wearing nothing. It controls the shine and gives good coverage when my skin's being blotchy. Multiple win.
Concealers
I use 'PeepO' and 'Blush Away', I had a sample of 'Blondie' but in my opinion, if you've got the correctors and foundation you don't really need skin-tone concealer. I'll start with 'PeepO'. I have found this more effective on the dark part under my eyes than anything else, but unfortunately it's still not perfect. It's a yellow concealer to counteract the blue and purple skin under the eyes and it does quite a good job however I do have to be very sparing with it as it can look yellow and powdery if I'm not careful. Sometimes I carefully brush some of my foundation or 'Blondie' over the top to make it look less obvious. All these concealers have to be used extremely sparingly – if you can see lumps of concealer on your brush that's too much, you want a thin dusting. Too much 'Blush Away' will look obvious and white, but with a gently-applied dusting I can cover most of my spots. My face looks about 70% less red thanks to this.
Because you only need such miniscule amounts of these powders to cover anything, the 4g you get for £7 will last absolutely ages. I've had my full-sizes of these concealers for over a year and it seems like I've hardly used any.
Finishing Powder
I have tried two of Lily Lolo's finishing powders, 'Translucent Silk', and 'Flawless Matte', and I have the former in full size. They are pretty similar, but 'Flawless Matte' contains kaolin to control oil, whereas 'Translucent Silk' is just mica. It doesn't really do anything for me, the finishing powder. It's handy if I've gotten oily, because then I can get rid of the shine without adding on more foundation I don't want or need, but otherwise I don't use it. I don't want to use it that much as you only get 4.5 g for £12.00!
Highlighter
I got a sample size of the 'Star Dust' highlighter and it's lasting me ages because a little of this light, sparkly, gold stuff goes a long way. It's really nice and makes a decent eyeshadow too. I have swatched it along with the eyeshadow, see below.
Eyeshadow
I bought the "Deep Purple" eyeshadow to treat myself with my second order. Having never tried mineral eyeshadow before I was disappointed by it because I didn't realise you needed to use primer or something else to get it to stick. Finding that out has changed my life, and my opinion of this product. It's a dark, slightly sparkly purple, looks good as eyeshadow or eyeliner, I really like it. Each shade of eyeshadow from Lily Lolo is £5, you get 2.5 grams for that, but I find I have to put about twice as much of it on as I would if I was using Aromaleigh eyeshadows.
Here are some swatches, but please don't go by the colour of this. It does not look at all brown in real life, it is actually purple. It is a fair guide to intensity though.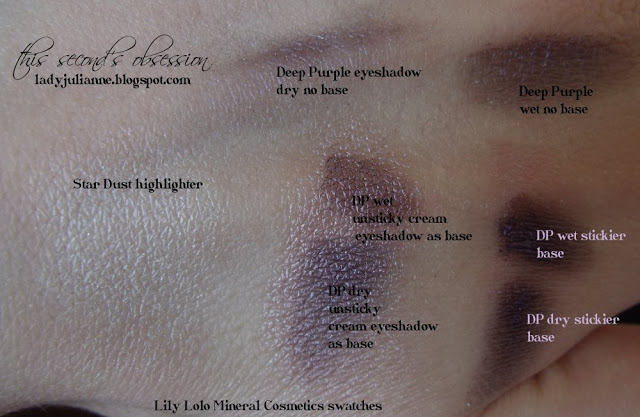 It goes on brightest if you apply it over a cream eyeshadow or primer that is slightly tacky. A cream eyeshadow that dries quickly is better than nothing but it won't look anywhere near as vivid. I find that it doesn't really work applied wet as a shadow, it's harder to work with than when it's dry, but if I'm using a fine damp brush to put it on as eyeliner, it's okay.
The Lily Lolo eyeshadow range is pretty limited, they've only got a few shades of each colour, but as they don't offer samples of the eyeshadows, they probably don't sell so well. There aren't any swatch photos provided either, just images of the powder in the pots. Hell Candy reviewed the Indigo eyeshadow, which I think looks lovely, and I'm looking forward to getting that one at some point in the future, but until some photos of the other shades in action make it onto the web I won't try any of the others.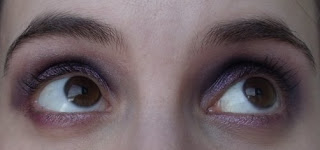 Top eyelids: Lily Lolo 'Deep Purple'
Crease: Aromaleigh 'flutura's cloud'
Below eyebrows: mobile-phone-shaped Superdrug gift set white
Bottom eyelids: Aromaleigh 'dormant dream'

Powder Packaging
All the powder products come in plastic pots with screw top lids and removable sifters. They are pretty to look at and work well, except that the jars are frosted/translucent plastic, which makes it impossible to see a) the true colour of the product through the pot and b) how much you've got left! It's really hard to judge looking through the sifters at the foundation and finishing powder because the product makes them translucent too. I have to remove the sifters to see if I'm running out which makes a mess, even if I am running out, because powder gets trapped around the sifter and goes everywhere when you move it.
There isn't any information about whether the containers are recyclable.
Super Kabuki Brush
The brush is really soft, I love it, and often swipe it over my face about thirty times more than is necessary because it feels so nice. I haven't worked out how to get powder onto it the best way as it's fuller than the brush I used before (funnily enough, as it still has all it's bristles) and doesn't really fit into the lid with enough room for me to swirl it around properly. I might have to find something else to shake the powder into.
Concealer Brush
Wow, does this make applying concealer fast or what? It's kind of stiff, it'll probably loosen up as it's washed but all I need to do is get powder on both sides and swipe a couple of times and I'm done. I ordered this with my "Complexion Perfection" kit because I'd had enough of the rubbish Argos-catalogue-make-up-kit eyeshadow brush I'd been using to apply concealer before, and I am very happy with it.
General Comments
Lily Lolo's base products seem to me to be pretty much no-frills. They only do one kind of foundation, three finishing powders, three skin-tone shades of concealer and two correctors. Other brands usually give you a choice, offering different properties. As a comparison, Aromaleigh offer two different types of foundation, and several different types of finishing powder. But Lily Lolo are in the UK! I have recently become addicted to Aromaleigh's eyeshadows (I made three orders within five weeks. Reviews coming as soon as I've had time to try them all and get some decent photos sorted), and as much as I am intrigued by the options for face products I can't see myself using up most of the £18 I can spend on an order on one single product. Plus I tend not to realise I'm running out of foundationy stuff til the last minute, so it would be hard for me to remember to allow 10 days plus for the products to arrive.
I made my third and most recent order to Lily Lolo on the 15th of January. I was almost out of finishing powder already, and then on, if I remember rightly, the 13th, the brush I had been using to apply my foundation powder…how can I put this…well, it exploded, basically. It was already shedding so much I had to put make-up on in my underwear but at that moment it reached the point of total unusability, dropping bristles everywhere. Then, when I found another brush, way too small, to put my foundation on, I discovered that actually, I needed some more of that too.
I was really pleased. Needing those three items meant I could order the "Complexion Perfection" gift set, which gets you foundation, finishing powder and gorgeous kabuki brush for a bargainous £35! It comes in a box, photograph below. If you've ever had any of the little Benefit box sets with the mini products in, it's like a giant version of that with the magnetic bit on the lid to hold it closed. Lovely.
When I placed my order, I expected it to be a couple of days, so I steeled myself for putting up with the tiny brush for a while. I only paid for first class post, but I know from my second order that they seem to upgrade you to recorded delivery if you're spending a fair bit. I don't know how much, only my sample order came first class, but I spent over £30 in my second order. The Lily Lolo website says you should allow 48 hours for dispatch. My invoice says 13:43. I got an e-mail saying that my order had been completed, with tracking number, at 14:18. My package arrived at about noon the next day. My purchases were at my door less than 24 hours after I'd placed the order. That's practically teleportation! I was impressed.
Lily Lolo's products are mostly vegan (products that aren't are listed in their FAQ), and are BUAV approved.
Just so you know, readers, I paid for all this stuff!