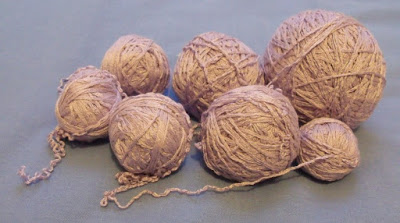 I found a lilac cardigan in a charity shop that wasn't really my style – or my preferred shade of purple. It was just dull. Little sleeves with ribbing at the bottom, and more ribbing around the base of the body. The rest was garter stitch. I would have left it for somebody else, but it had a couple of marks on it, so was very low-priced, and when I looked at the label, I saw that it was a cashmere and silk blend. Ding! Yes please! So I took it home, washed it to get the musty smell it had out, and started to unravel it.
The best instructions that I could find come courtesy of Dawn at My Virtual Sanity. There are a number of different websites and blog posts about recycling yarn, but I found this post had the most helpful photographs and detailed information. The author actually recycles yarn for resale, so that was encouraging.
It took me a few days to get through the entire cardigan, because the repetitive winding movement made my hands ache after a little while and I had to keep resting. But I persevered, and was rewarded with several balls of luxury yarn at a low cost. I'm still not sure about the colour, I'm considering dying it Dylon's Burlesque Red, but I will wait until I knit it up into a new garment and see what it looks like. I'm not sure how dark the yarn will go when it dyes, as the Dylon website says silk and wool come out a lighter shade.
The yarn is light fingering weight (3 ply) so I'm reluctant to try knitting it into another cardigan as that would take ages and be quite repetitive, plus I'm not sure that I have enough yarn left for that. I had to lose quite a lot because the buttonholes had been cut into the fabric, and the cardigan only had short sleeves to begin with.
I searched Ravelry for appropriate patterns, and when I saw the Travelling Woman shawl I gasped. It's so pretty, and I think it would look lovely in red. Or purpleish pink, however the yarn turns out. I think I'll give that a go, unless anyone reading this has any suggestions?