A couple of months back I made the trip to one of London's newer shopping complexes, Westfield, for the first time, and I thought that I'd write a review for the benefit of anyone who hasn't been but is thinking of paying a visit.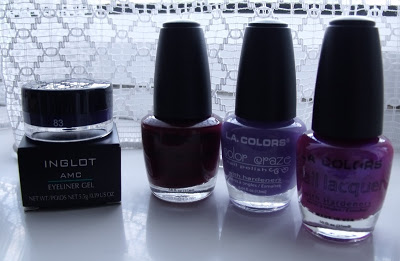 Apologies for crap photo. The problem with having two bottles with black writing on them and one bottle and one box with white writing on is that you can't get it all to show up together on camera.
It's been open since 2008 but I hadn't visited before because it would take me over an hour and a half to get there on public transport. The route includes the Central Line, which is probably my least favourite tube line. Also, west London is by no means a familiar area for me, although maybe I was exaggerating slightly when I said to the friend I travelled with: 'We're south-east Londoners, coming here is like going to the other side of the world'. There are plenty of shopping centres much closer to where I live – The Glades in Bromley, the Whitgift Centre and Centrale in Croydon, and the Lewisham Shopping Centre…in Lewisham, obviously, as well as a multitude of high streets. I also usually go to Bluewater with my family for a day out at least once a year, as it's quite easy to get to by car. My visit to Westfield was focused around seeing my friends, trying out a couple of restaurants and cafés, and of course visiting Inglot, whose only store in the UK is at Westfield. I was also interested in visiting Beauty Base to see if they still stocked Milani, and the Make Up Store, as I'd never been to one of their shops before.
Westfield has the worst layout of any shopping centre that I have ever been to. In my opinion, Bluewater is pretty much perfection in layout terms, being round. You go in, pick a direction, and go around in a circle until you're back when you started. Then you go upstairs, or downstairs, to the other floor, and repeat the process. Then you leave (I'm not the biggest fan of shopping, so I appreciate efficiency). But Westfield? WTF? I mean look at this map. Just look at it. You'd hope that with a layout this random, they'd have plenty of maps around the centre. No. There were a few interactive information points dotted around, on which you could search for the store you were looking for, but not nearly enough. I had to queue to look at one!
With a few mostly-make-up related exceptions, most of the shops at Westfield are the same as those you'd find on most high streets and in most malls, and I wasn't very impressed with the branches of the chains that I did visit. I think The Glades has a bigger H&M and possibly a bigger New Look (it's recently moved lot and I haven't been there since). There is a section specifically for designer stores, The Village (oh hello ironic name) but we didn't bother going down that way.
I had pad thai jay at Busaba Eathai for lunch, which was delicious and quite reasonably priced considering, and then later on had half a lemon tart and half a mixed berry tart (my friend and I ordered two and then had half each so we could try both), at Le Pain Quotidien.
So what did I buy? Well, there is no longer any Milani stand at Beauty Base (sad, I want this lipstick), but there is a giant section of the aisle devoted to L. A. Colors nail varnishes, for 99p each. I managed to restrict myself to only buying three. I couldn't remember whether I'd read any good reviews of the brand so I decided not to risk any more than £2.97. The purple is 'Tropical Breeze' (bit of an odd name for that shade, I think), the wine red is called 'Plum Wine', and the pink with blue duochrome effect is called 'Shocker'. My bottle of 'Plum Wine' was a slightly different shade to every other bottle on the rack, which was odd. I haven't tried it or 'Tropical Breeze' yet, but I have worn 'Shocker' twice now and I love it. It's so lurid.
I did almost actually drool over the eye dusts at Make Up Store, I found the green one that Zoffe used for this look and I promise you that it is even more amazing in real life and I want it. However I showed yet more remarkable restraint, sticking to my eye product buying ban. Go me! Then I broke this ban rather spectacularly last month, when I bought three Sleek palettes. Oh well…
After Grey gave the gel eyeliners a good review I decided that I would pick one up in Inglot, and after much deliberation, I decided that red was a bit too impractical for someone like me who doesn't have a lot of red clothing to match it with, but I still wanted something bright, so I went for the almost violet, but definitely blue number 83 as the purples were either dark or lilac.
I will write reviews as soon as I've properly tried and tested everything!