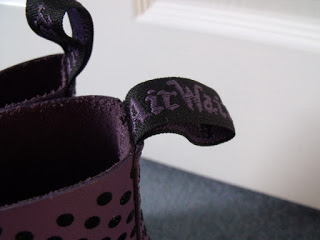 Back when I was a vaguely alternative sixteen year old, too shy to actually buy items of clothing involving black lace and wear them, several of my vaguely alternative (although at least one actually identified as punk) sixth-form friends had Dr Martens, and I was jealous.
I had a pair of boots. They were very plain, square-toed, but still quite sleek, and from Nine West. They were about £60 in a sale, and after a lot of pleading I got my parents to buy them for my (fifteenth?) birthday. I loved them. I still have them somewhere but the sole is now so thin my feet get sore really quickly. I'm not convinced resoling will solve the issue, I think they've worn out both sides, and I don't think I can get an insole in as they're size eights that I wore as my feet grew so they stretched – just enough to fit me. I can't bear to throw them out though – they were my Buffy boots; in them I felt like I could slay vampires and save the world. I wore them to music lessons, to school in Year 12, and even just around the house if I felt like it. And they gave me my first taste of Life in Boots.
Back to the Docs.I was desperate to get a pair for my seventeenth birthday. So off we trooped to Camden market on a Sunday afternoon. I looked around several stalls, but it was in the British Boot Company store that I found the loves of my boot-wearing life. 14-holes, zips, and most importantly, purple.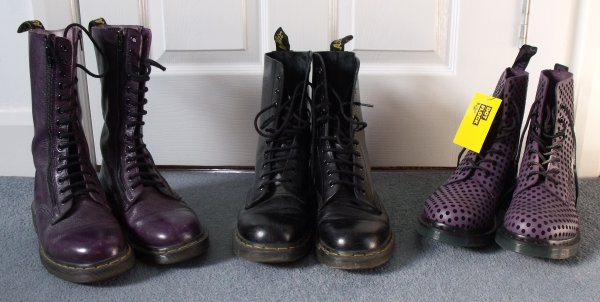 Whew! They were expensive though. £120. Worth every penny. Worth twice that. At least. I have worn them so many times I'm now scared that I'll wear them out. And by scared, I mean terrified. I love these boots – I still have the box inside my wardrobe, seriously – and they don't sell them any more.
Which is where the black 10-holes come in. They were originally my sister's, but she stopped wearing them, and a couple of years back I persuaded her to let me wear them as my everyday boots. They're nowhere near as comfortable as the purple beauties, because they're made out of the thicker normal leather (the 14-holes are thinner leather because of the zips, hence the fear), and I'm sure they're factory seconds because the tongue doesn't seem to have been sewn on right. They came from a stall in Camden. They do have one advantage over the other pairs though – they look good with skirts, they're just the right length.
When I saw the flock dot Pascals online I started flapping my hands Mini-Skins style and hyperventilating. I love polka dots. I love purple. I love that there is no yellow stitching, it's dark lilac on the leather, and black on the soles. Even the tag has the same purple on it! Adorable! I had wanted another pair of Docs for a long while, plus I had some money from doing surveys online to spend. I bought these from the official Dr Martens website. There are a couple of places offering them for slightly cheaper, but only the official website had size nine available.
I was really impressed with the delivery company, DPD, because they let me choose the delivery date from a list, and then sent me a text message to give me an hour window within which they would arrive. Wonderful. When they arrived I was totally thrilled to find that they fit fine, and the leather is so soft they require no breaking in. The only problem is the combination of leather and flocked dots, I'm not sure how to polish them, but I guess I'll work it out. Now for the scandal: I've had them a few months now, but I haven't worn them yet! First I didn't have any waterproofing spray, then it was summer. But autumn is coming, perfect boot weather. Yay!
I used to see Docs as a sort of compromise; what I really wanted was some big ol' New Rocks. But I don't see myself graduating from the Dr Martens phase any time soon. I've yet to see a pair of New Rocks in a bricks-and-mortar shop, available to try on, that are, um, calm enough for my tastes. I don't want buckle overload, and I've always felt quite strongly about this. The only thing that's changed since my vaguely-alt teen days is that I've stopped looking. Dr Martens have run away with my heart.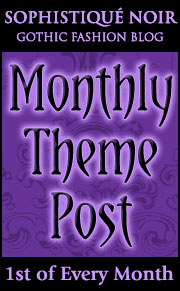 Although it's technically the second of September, this post was written for the lovely VictorianKitty's monthly theme. I voted for this theme over black and purple – that's how obsessed with these boots I am.
Make sure you check out her post to see some of those buckly New Rocks I shy away from, but she looks great in. Is there nothing this woman can't pull off? She even looks good with her hair in double buns. WTF.
The Obscurialist also loves Docs. GothBarbie has the Darcies, which I have yet to make my mind up about, as I haven't seen any in real life. Le Professeur Gothique has some floral print docs, I've been tempted by the floral print ranges a few times (also by the pink and black lace pair, happily for my bank balance, they never have my size). Ghoulina Bones has a fantastic electric blue pair.
I am now lusting over all the boots in Electrobat's post, especially the Fluevogs. Oh, Fluevogs. So beautiful. So unattainable. See also the purple boots worn by Trystan L. Bass. Yes, I'll admit, part of me is finding this theme almost painful, and is wondering why on earth I voted for it!