I've been meaning to write a post about lace for ages, so it's just right that the arrival of October, and Sophistique Noir's monthly theme, should spur me on. I've always loved the idea of lace, but it's a tricky kind of fabric. A lot of people are afraid of it, because it can often look cheap and tacky. It's either In Fashion, or very definitely Out of Fashion, and I think the only type of fabric that is more at the mercy of trends is velvet. At the moment lace is very much In Fashion, especially on the sleeves of dresses, the lingering influence of a certain wedding dress, I expect.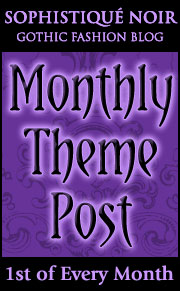 However, I'm not sure how I feel about lace sleeves! I've seen few dresses with lace sleeves that I actually really like. It's all because of the pattern – I'm really fussy about any kind of pattern and lace is no exception. Most lace sleeves are not to my taste, I'm afraid, and my lace dresses and tops are sleeveless, with the exception of one almost-tacky goth top I bought from Camden Market when I was a teenager (it just about works. Under another dress).
I have decided to use this post as an excuse to look for pretty things on the internet and create a list of lace things that I do like, and things that I don't. We'll start with the don't likes, because there are no pictures so it'll be a more boring list.
1. I don't like lace ruffles around the neck/shoulders. Amongst other aesthetic issues, I never know what jewellery to wear and I like jewellery, so I don't want to have to skip it.
2. I don't like plain shift dresses with lace overlays. The simplicity of the shape seems to make the lace dull by association.
3. I don't like lace leggings. This is because I despise leggings in general. Unless they are jeggings that really look like jeans. Those are fantastic. I digress.
4. I don't normally like crochet, there are exceptions, but those are rare, I don't like the blocky look it has.
5. I don't like lace trims on tulle, it just reminds me of net curtains.
6. I don't usually like that cream colour often called 'nude' (why? It's not skin colour for the vast majority of humans) as a backing for lace, but that is because I despise that colour in general. Exception:
I just have no idea how to stand for outfit photos. I'm sorry. This photo also makes me laugh because it looks as if I have cleavage and this has never happened in a photo before!
 (Hat – M&S current season, dress – H&M Summer 2005, wrap top – H&M no idea when, long cuffable scrunchable socks – Sock Dreams, shoes – Clarks, necklace – Agatha via charity shop, lipstick – Sleek Pout Paint in Pin Up)
I think this dress gets away with it because it's a very cool neutral, not warm at all, almost grey. Plus it's obviously darker than my skin colour, when shades are too close I feel they just look orange in comparison. The socks and the hat (post coming about the wonders of M&S cloche hats) are quite a dark blue-red, so there is no clashing. It's still a bit too yellow to be worn with purple though, I don't think I've even tried. On top of the dress I'm wearing a wraparound top with black lace trim that I love because I can convert sleeveless or short-sleeved tops into longer, warmer, more interesting tops, as soon as I put it on. On that note, onto things I do like!
1. Bright colours behind black lace. This dress is amazing! It's so amazing I can even ignore the presence of leggings in the photo.
2. Lace that is almost-off-the-shoulders. I love the shape of this dress though it's hard to judge the quality of the fabric from the picture. It's simple without being dull. Plus, it's purple.
3. The odd bit of lovely weirdness, like a lace dress with a hood.
4. Two different colours of lace together. This dress is way too short for my tastes but I love the way the purple and the brown look together.
5. Lace gloves.When the quality is quite high, anyway. I can't supply a link here as it's so difficult to find a pair I like.
6. Lace on hats. As you may already know.
7. Lace effects on other things. Lace makes a great stencil, whether you're painting your Docs or your nails.
8. Knitting lace. SO DIFFICULT. Just wonderful. I do like a challenge!
9. Lace + floatiness = great. As seen today on the cherry blossom girl.
I haven't actually bought any thing from the new influx of lace onto the high street, but I did get a lovely long dress that is aqua-green with black lace over it from a charity shop recently. Unfortunately it's still in the wash right now (gaaah hand wash gaaaah) but here is a size 14 version on eBay (disclaimer: I am not the seller, I do not know the seller, I am not responsible for this listing and the quality of it).
I would like to invest in some more lace items as those that I do have, I've been wearing for years. The dress in the photo above is from Summer 2005. I didn't actually wear it that year, I was too shy, but I've been loving it since Summer 2006, it's now one of my favourite summer dresses, and by wearing it over thick thigh-high socks I was able to wear it during the autumn. Then the autumn was replaced by summer in the UK, and I wore it with red tights to go to a few pubs earlier in the week. Heatwaves and lace are best friends. The worst thing about lace is that it's not particularly warm and it looks best when it's slinky and at least partly figure-hugging. Not ideal for the winter, but then again, lace shawls can be warm, when made with the right yarn.
You may have noticed that I've gotten into the habit of posting these monthly theme posts a bit late. That's because I like to read some of the other participants' posts so I can feature those that I really like. If I were more organised I might make two posts out of it, but I'm not, especially not at the moment as I'm coming to the end of employment. I kind of wish I'd had SalKaye's idea to feature some free lace knitting patterns, except that would have taken me ages.
I really like the dress in the first picture on The Irish Phantom Cat's post, probably because it's green. I actually have a top that is green underneath with black lace on top, it's even older than the dress in my picture, I think I've had that one since I was 17! I also love Unlacing the Victorians' top, and it has lace sleeves. Whee!
How do you feel about lace? Yay or nay? Any lace dress recommendations?