Two posts for you today as I try to get caught up!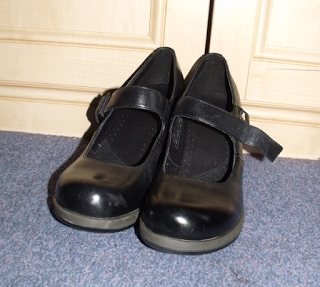 I've had these – my Dr Martens' Marlenas – since I went to the warehouse sale on Brick Lane in March. I queued for three hours, during a mini-heatwave, looking enviously at everyone who passed carrying bags and trying not to think too much about food, water, or going to the loo.
It was totally worth it though because once I finally got inside, the size nine section was still relatively tidy. The sections for smaller sizes were a complete mess, boxes and boots everywhere, Hurray for big feet!
I tried on a pair of high heeled patent leather boots. As I picked them up I wondered about their practicality, and when I put them on I felt, as I anticipated, a weird combination of excitement and shyness. I wasn't sure I could walk down the street in these boots unless I was on my way to Slimelight. It's not often that I'm in the mood to be as overtly sexy as these boots would force me into being, for lack of a better way of putting it. I usually dress quite demure. Even when I was 18 and used to regularly wear this one lacy top that basically looked like underwear, I wore it with jeans 90% of the time. I don't own a single body-con dress.
And yet they were amazing. High heeled patent leather boots! They were only £25, so even if I only wore them once a year to a goth night, I'd get my money's worth out of them, eventually, I reasoned.
Then I tried actually walking in them and it was obvious pretty quickly that the arch wasn't quite in the right place. I have another pair of shoes where the arch isn't quite right and it's really annoying. So I reluctantly left them for someone else to claim.
Instead I got the Marlenas, which are nice, practical Mary Jane style shoes – with a big enough heel to make me over six feet tall. Mwahahaha. They're pretty comfy but they need breaking in, and I haven't had the time to wear them around the house for the last month. Now I've got some holiday time between jobs, so I can get them broken in.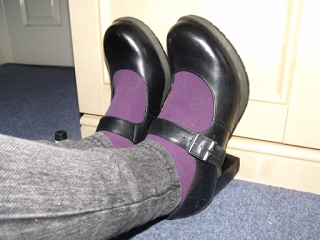 I put them on today for about an hour and hopefully will get to wear them for longer tomorrow, and soon I'll be able to wear them everywhere and feel awesome!