I'm not really a print fan. As I've said before, I don't like most prints. I'm really really fussy. They've got to be just right for me to like them. Sometimes I go off clothes I've owned for ages and worn loads of times just because I've decided I can't stand the print.
I'm especially fussy about florals. Tiny flower prints are often too cutesy-girly for me, and I don't like the bold Hawaiian-style prints that feature on summer dresses practically every year. I want the middle ground. Something pretty but not too delicate.
I found it in this dress.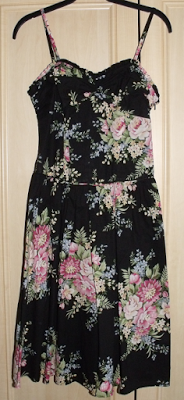 I got it from a charity shop the year before last, and it was originally from Warehouse. It's really well made – fully lined, concealed zip – and its one of my favourite things to wear in the summer. Here's a close up of that print. Sorry for the slight lighting fail – stretching it out with one hand whilst taking the photo with the other was really difficult.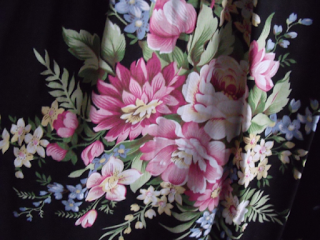 I love that the background is black, as I feel that partly compensates for the girliness of the flowers. I tend to wear it with black opaque tights, or fishnets, or lace tights and my black Doc Martens boots to toughen it up even more. I also love the colours – they provide me with so many options for make-up – pink, blue, green, gold, and, of course, black.
The only way it could have been improved is if they'd actually lined up the print properly when sewing the sections of the dress together, because it looks a bit sloppy as it is. You can't really expect prints to be properly lined up on high street dresses though and I think I lucked out finding this one because there's one of these dresses on eBay right now where it's even more obvious.