I got behind again! Not that I ever managed to get completely caught up last time, but I was only one day away. I'm not going to prescribe a set number of posts per day but just aim to get all the posts up by the end of the month. Which is in three days. Eep.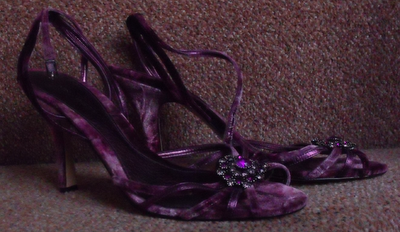 Anyway, today's choice is some pretty blingin' purple shoes that I got in late 2005. I have only worn them a few times because of the four-inch heel. I pretty much only wear them to house parties and to dinner in restaurants when I'm getting driven all the way there and back! They were £48 in a sale at Nine West which probably sounds like a lot to people who can buy shoes in Primark but for me that's a bargainous price for shoes I actually like. It's a rare, rare occasion when I spend less than £35 on shoes, and I usually shoe shop in the sales, though sometimes I'll have to get in there fast before my size sells out and pay full price. If I need a specific type of shoe quickly…let's just say my wallet cries a little. I still resent the £60 I had to spend on ugly yet practical and appropriate shoes for work (which have now stopped being comfortable so I had to buy gel inserts for them, argh!). It's not like I own many pairs of shoes or spend masses on clothes though so everything evens out budget-wise.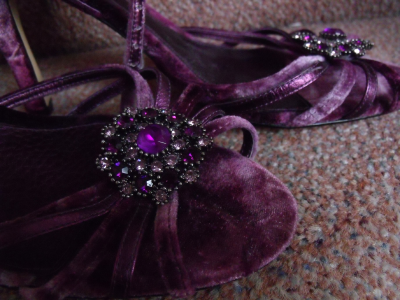 Aren't they beautiful? A bit OTT but oh well, I'm all about the PURPLE PURPLE PURPLE.