They're a regular spring trend, but this year I was obsessed with pastels like never before. I mostly stuck to lilac, because I get bored of other pastels too easily, and as I don't think it suits me that well, I balanced it out with lots of black and bright pink. A couple of times I went for petrol green instead. I love purple and green together.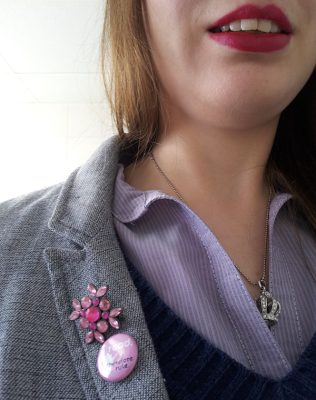 I wore this pale pink badge and brooch on my grey jacket almost all the time, and chose that lilac shirt to wear to work almost once a week.
I wore Aromaleigh's Penelope eyeshadow so many times I lost count. Often several times in a week. It's rare for me to become that devoted to one product.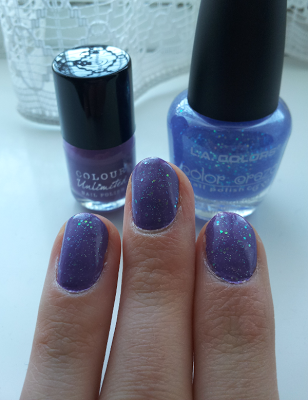 I got out all my nail polish, picked out all the pastel shades, and put them in front of the box in my cupboard, for easy browsing, but mostly I wore the Colour Collection lilac from a Christmas set, sometimes with L.A. Colors' Flurry on the top for some sparkle.
I have been choosing to wear brighter shades lately, as it is now definitely summer, and I'm sure I'll go back to jewel tones as soon as soon as I feel the first chills of winter, but pastels have won a place in my heart and my imagination. I've spent a lot of time lusting after long floaty lilac skirts. I have yet to find the perfect one, even after a lot of eBay trawling, but I'm still hoping that it will materialise.
How do you feel about pastels? Did you follow the floral trend instead? I picked up a really cute dress that's pink with blue flowers in a charity shop, and had a few floral favourites already.