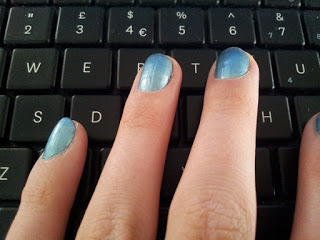 Hello! Remember me? I hope you do so, and fondly, because this blog is coming back to life in a big way. I've got a lovely spreadsheet schedule sorted out, and one of the first steps I'm taking is to bring back my Monday Amusements posts. I'll be posting Monday Amusements here every other week, starting today, and doing the same (but reading and writing themed) on this fleeting dream, which I started last week. Therefore you can expect my next Monday Amusements post here on the 27th May. Coincidently, this Monday Amusements post and my last Monday Amusements post on this fleeting dream have the same number, which I think is quite nice.
Just as I have on this fleeting dream, I am going to try to credit my sources when I didn't just find a post or article myself via RSS feed, website e-mail newsletter, 'surfing the web' (as I believe the kids called it in 1998, I should know, I was one) or the publisher's twitter. Previously, I'd just bookmark the piece and by the time I got around to putting my Monday Amusements post together, I'd have forgotten how I discovered it. From now on I will bookmark the relevant tweet or Facebook post instead, so that you can find and follow interesting people too!
One thing I'm going to stop is sorting the links into categories, as I did with the original posts. I'll still group them into paragraphs where it is appropriate, but I found that my attempts to stick rigidly to one template for all the posts failed, because I go through different phases (or obsessions, if you will, haha). For example, while some weeks I'll want to share loads of craft tutorials, other times I won't have bookmarked any new ones, so having a 'Craft' section doesn't work, and it's the same for almost every other section I was using. Except for 'cute'. I can always manage to find something adorable.
Any feedback on this would be much appreciated, so do leave a comment. I'd also love to know which links you find the most interesting, as that will help me decide what to include in future. Now, on with the links! 
The Beauty Milk has a feature that I really enjoy, and kind of wish I'd thought of first, called Try It Out Thursday. The most recent post in this series is about using tape to help create blunt-edged winged eyeliner looks. I am definitely going to try it out, although I'm quite happy with my eyeliner technique at the moment.  I usually blend my eyeshadow out and then draw my eyeliner on top, so the eyeshadow goes out past the wing, and I want to find out what it looks like when the wing marks the edge of my eye make-up. I'm not sure it'll work because the natural brown colour of my eyelids extends past the edge of my preferred wing position, and I usually use eyeshadow to cover it up, but I could try covering it with concealer or powder afterwards instead.
On a similar note, if you're attracted to coloured eyeliner but are not sure how to wear it, Anitacska at Pleasureflush has three different ideas. Three is the magic number this week, as Robyn shows us how wearing a different lipstick can alter the overall effect of a make-up look, at Stay Beautiful. And on the subject of 'different' lipstick (I've got to stop these corny segues), Leanne at Do Not Refreeze reviews Illamasqua ESP, a surprisingly wearable purple lipstick. As I wrote in the comments, with the Boost lipgloss it reminds me of Lush's Passionate lipstick, a bright pink with a blue/purple duochrome effect, as well as the ancient Rimmel purple lipstick that I mentioned here.
As you may know from my tweets, I am currently obsessed with dyeing – more on this in an upcoming post.
I don't have any shoes at the moment that are suitable, but I will definitely revisit the Dreams that Glitter tutorial on DIY Ombre Dip-Dye Shoes.
It's finally starting to feel more like Spring here in the UK, after about six months of alternating rain, snow, and freezing cold weather, but I like to be prepared, and Owl Girl's post How to dress on windy days! is really useful.
My favourite area of study at university was cultural studies, so I love reading posts that explore the social and political implications of self-presentation, such as this post about beauty/fashion 'rules' and stigma, from The Beheld. I also enjoy fashion history, and I wanted to visit the 'BIBA and Beyond' exhibition at Brighton Museum and Art Gallery, but never got around to it. It's finished now, so I'll have to settle for revisiting this review at Lipglossiping. I love that purple patterned dress with the bell sleeves and the lilac halter-tutu dress in the photo below it. I also enjoyed Victorian Aristo Tattoo Crew on the pamflet blog, and Stylist's 50 Style Icons of the 1920s – a decade I love reading about in books, as frequently mentioned on my other blog.
Finally, some cape eye candy from The Cherry Blossom Girl, and the traditional 'cute' inclusion, with a not-so-traditional animal: Snake as hair scrunchie.