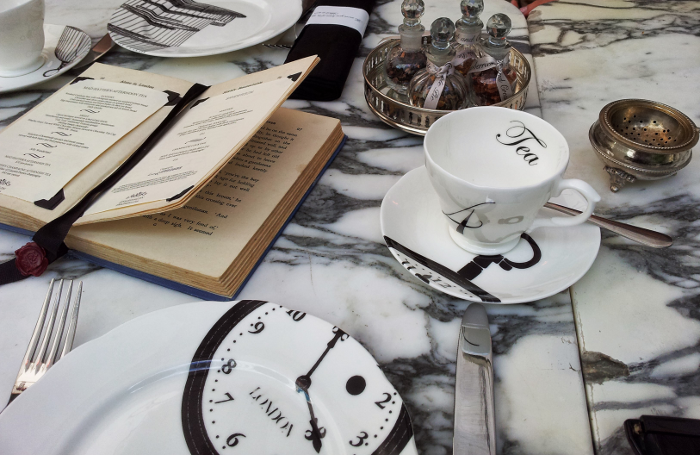 A little preview from an upcoming post about afternoon tea!
It's that time again! This week's post is a bit make-up blog heavy, cosmetics have been on my mind even more than usual as there are a couple of products I've nearly used up (!!!), which means that I can almost justify buying more!
I've also felt encouraged by Lipglossiping's 'Starting out? Build your stash without splashing the cash! post. The part about looking at what you already own and thinking about what you use the most has really stuck in my head. I used to feel alternately excited and guilty about all my make-up purchases, but hang on, I really do wear all those purple eyeshadows, and I have nowhere near enough to bury myself in. That said, I think it's time to face up to the fact that I prefer bright over dark for lid shades and to either stop buying so many pretty dark eyeshadows or wear them more often. I'm going to make an effort to get more use out of them and if I can't manage it within a couple of months, that's it. I'm not buying any more, no matter how pretty they might be, I know they'll just sit in my stash, mostly used to darken the outside of an occasional crease, and only rarely taking on a starring role. The ones I already have will last me forever at this rate. The same goes for blues, greens, and pinks. Although I've yet to find the properly pigmented bright blue of my dreams (I thought it was NARS Outremer but I swatched it in Selfridges and it is not true to pan!) I probably have enough of the others.
I enjoyed reading Part 1 and Part 2 of Makeup Savvy's 10 Things I Hate About Makeup, I agree with everything she's written in those posts, especially with her point about the increasingly high prices of High Street brands. Why are so many mascaras so expensive now? We all know that the profit margins on cosmetics are huge, even when they're made in the UK. There are a lot of special offers in Superdrug and Boots, but they never seem to come at the right time, so I've resigned myself to stocking up when I find them cheap. My last five mascaras were free with magazines, or from the Boots bargain bin.
Meanwhile, this look on Glitter is my crack… is really making me want to get out The Only Orange Eyeshadow That Doesn't Look Terrible On Me (the matte orange from the Sleek Circus palette) and do a sunset look again! The first time I tried it was for a gig and I loved the results at first but got a bit tired of seeing the orange every time I looked in the mirror! Maybe I need to tweak it so that there's only a tiny bit of orange visible!
Though I'm going through a pastel obsession at the moment, I expect that I'll be back to my usual black-loving self in time for summer (that's if we get one, it's been warm lately but it's looking drab again outside my window now)! There's something about wearing black in the sunshine, especially with hot pink. I'm going to keep in mind Hellcandy's Glitter goth tips NOTD for when I want to wear black nails with all my pretty summer dresses.
On the subject of goth, as usual I've been enjoying Sophistique Noir's Red and Black Week. I didn't take part this year for two reasons, a) I forgot about it til part way through and b) I haven't bought anything new to show off since the last time! I was on a hunt for red things to wear to a party a couple of months ago, but everything in the shops was too orange. Oh well, I'm sure blue-red's time will come again!
While we're on clothes, I loved Debutante Clothing's photos of the 1920s-style Sue Wong's Fall 2013 collection preview. They make me itch to go to Prohibition again.
Lipglossiping's post about the first day of her recent trip to Paris has got me craving steak frites. I'm not sure that I've even had steak frites before, though I used to love Wetherspoons' steak and chips! They're basically the same thing, except French and therefore probably less cooked and in a yummy sauce, right?
Finally, a pile of corgi puppies! Ahhhhhhhh too cute!