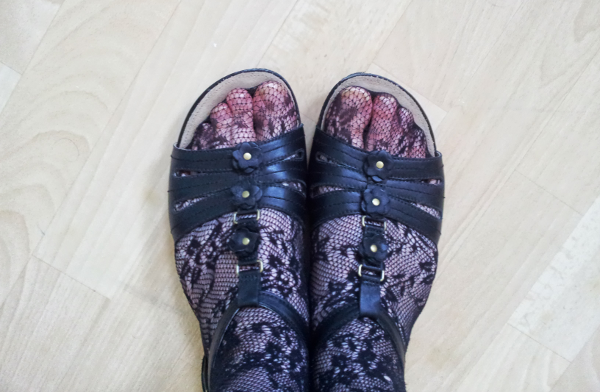 Yay! Sandal weather!
When it comes to lipstick, I only suit two colours. I don't really mind though, as they're the best two – bright pink and bright red. I prefer red in the winter, but now it's summer and I'm all about the pink, so I loved Lipglossiping's Five head-turning pinks to get your lips looked at!
This look by Zoffe has me itching to wear more blue and green. Am I the only one that loves to match their make-up to their outfit? My clothes are often dictated by my nail varnish – I won't wear something that clashes with my nails!
I also really liked Katie's silver and black liner look. I've got a discontinued Bourjois liquid eyeshadow that looks similar to the Rimmel one featured, so I'm planning to try it with that.
I loved these Gay Pride Rainbow Nail Designs at Do Not Refreeze – and there's an fantastic giveaway at the bottom of the post. For another amazing giveaway, check out another of my favourite blogs, Daisies and Dr Martens.
I'm going to a festival in a couple of weeks and have started planning what I'm going to be taking in my make-up bag. It was great to see another blogger's choices at Cut-Throat Beauty and I will definitely be posting about the items I decide to take!
Anushka Tay's review of Honest Burgers in Brixton made me feel really hungry. I've been meaning to go there for about a year but every time I'm in Brixton long enough to get dinner they're closed!
Hope you're having a good Monday! I'm off to listen to comedy cricket music. I know almost nothing about cricket, but I still manage to find it endlessly hilarious.