I like to keep my festival kit as minimal as possible. I worry that all my stuff will get stolen, or that I'll drop something expensive in a cow pat. I prefer to wear cheaper clothes, take a second-hand book to read, text from the Nokia that only cost £10 (and that, several years ago), and severely limit the contents of my make-up bag.
Packing for Latitude Festival was a bit of a challenge. Even when I was in my early teens I took far more make-up than I ever used on holiday – I tend to pick one look at the start and then repeat it, maybe with a few tweaks or refinements, for the rest of the trip. When there are places to visit and sights to see, even I am reluctant spend time being creative with my cosmetics. So I gave myself a stern talking to and only took items that I thought I would definitely use. I might have been a bit too strict, actually. It was annoying to only have one lip colour.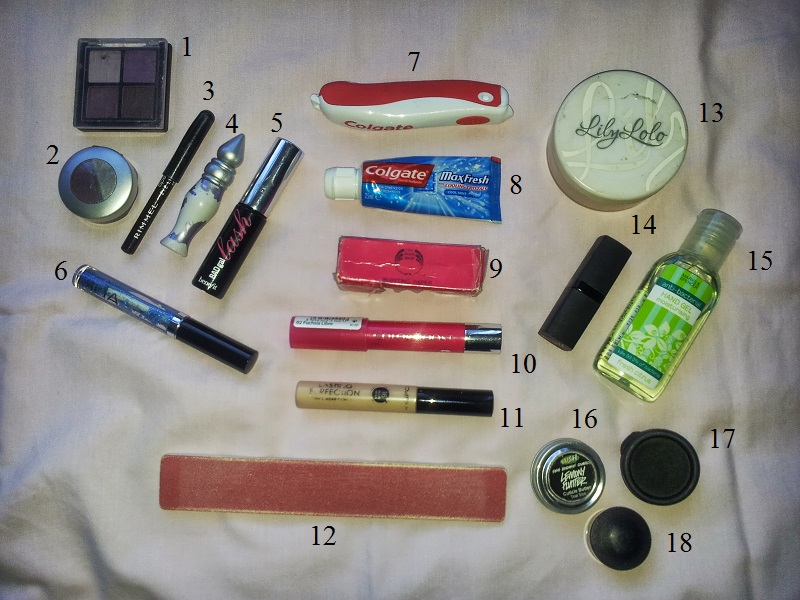 I have labelled all the items so that you can see what I am talking about!
1. No brand purple eyeshadow quad, probably from one of those catalogue make-up sets. This was passed on to me by my sister just before I went to Latitude. I think I used a bit of the brightest shade, in the top right. The pigmentation is pretty bad and I wished that I had a brush so that I could apply it wet.
2. Kolor (old Superdrug own-brand) purple and silver eyeshadow duo. I always take this away with me because I really like both both colours and they apply easily with a finger tip. However, my standards for make-up quality have gone up a lot since the last time I went away anywhere and I quickly realised that the pigmentation and staying power of these eyeshadows isn't very good, even over Urban Decay Primer Potion. I could have tried them with Pixie Epoxy but I didn't bring it or a brush! Instead, I applied one layer of the silver, covered my lids in the MUA glitter eyeliner (5), and then applied another layer of the silver. It looked okay in the end, but not fantastic.
3. Rimmel black eyeliner in Black Magic. I don't think I used this.
4. Urban Decay Primer Potion. Apologies for the state of this particular sample bottle (from the NYC Book of Shadows), which is shedding its plastic coating. Sometimes it comes off on my fingers and won't budge, no matter how many soft furnishings I wipe my hand on. This is amazing, and I'm glad I took it.
5. Benefit Bad Gal Mascara, sample size. This was free with Glamour Magazine at some point and I have been using it on and off since last May. As there isn't much left and I love it, I decided to take it to Latitude. Wise decision.
6. MUA glitter eyeliner. This product only cost £1, but is not a good purchase. Even when I first opened it the glitter clumped together. Te brush is a white plastic spike and absolutely useless for applying the product with any sense of control. The best you can do is press a thin layer against your lash line, and forget attempting a flick. I've tried two other MUA glitter eyeliners, the turquoise and the purple, and they don't clump in the same way but they have the same brush, so I wouldn't recommend those either. To make this wearable I until I mixed in the remains of an old Rimmel silver glittery eyeliner/mascara which I always found too thin. The consistency is much improved but the brush is still rubbish. I took it to the festival in a bid to use it up. I tried using it as eyeliner but it was barely noticeable so I spread it all over my lids and then applied some more silver eyeshadow on top, basically using it as glue. I am tempted to bin it now I'm home.
7. Colgate folding travel toothbrush. This is great, though as far as I can tell it only comes with soft bristles, and I prefer medium.
8. Colgate Maxfresh travel-size toothpaste. It has chunks of glitter in it, which is odd. Otherwise, I quite like it.
9. The Body Shop blotting paper. I've had this little reel of blotting paper for years and it's still going strong. Fantastic for mopping your forehead during a day of sun and sweat.
10. Bourjois Colour Boost Lip Crayon in Fuchsia Libre. This is a new product that I bought especially for Latitude, because it's SPF 15 and is more of a stain than a straightforward lipstick. It wears off more subtly than a traditional lipstick, isn't drying on me, and feels really lightweight on the lips. I love the product but I'm not sure about the colour, I think the shade is a little too light to suit me. I wore it the other day with some Benetint lip stain underneath and it looked lovely, yet on its own it doesn't look quite right. If they bring out some deeper, darker shades I will definitely buy them, but for now I'll make do with investigating the similar chunky lipstick crayons produced by Revlon, Seventeen and half a dozen other make-up companies.
11. Collection Lasting Perfection Concealer in Fair. I usually use mineral foundation and concealer from Lily Lolo but I didn't want to have to take all my pots and brushes so I bought this popular and fairly cheap concealer instead. It's easy to apply on top of sunscreen, and really does last all day. I'm very impressed, especially considering the low price, and although I'll stick to my Lily Lolo products for every day, whenever I wear sunscreen I'll be reaching for this to conceal my dark undereye circles and any other blemishes.
12. Body Shop nail file. I didn't use this at all.
13. This looks like a Lily Lolo foundation but actually it's just the pot. I made my own setting power with the dregs of old pressed powders (mostly Rimmel and L'Oreal), a bit of Lily Lolo foundation, a bit of Lily Lolo's green concealer, and a tiny sprinkle of their highlighter, Star Dust. On top I popped an old circular sponge. I used this to make my face less shiny after applying sunscreen, carefully patting it onto my face so that I wouldn't wipe off any of my precious factor 50!
14. Barry M 'Touch of Magic' lipstick. This is that lipstick that looks green and applies pink. I don't like the shade of lipstick that I get from this, but it makes a great cream blusher. I drew a line on each of my cheeks and then quickly rubbed it in.
15. Marks and Spencer Hand Sanitiser. I bought this for 50p in a M&S outlet. I only used it once, when there was none of the provided hand sanitiser left at the toilets, but I would definitely bring it again!
16. Lush Lemony Flutter sample tin. I love this product but didn't use it.
17. Lush Vanishing Cream, in sample pot. Again, I love this product and was supposed to use it at night after taking off my make-up, but I was naughty and once I'd taken my make-up off I invariably felt so tired that I couldn't be bothered doing anything else but brushing my teeth and going to sleep.
18. Virgin Vie Guardian Angel. This is basically a tiny lip balm that I got for free on holiday years ago, and I mean years, maybe ten or more! I didn't use it because it didn't fit in the bag I took to the arena with me and I was reapplying the Bourjois Colour Boost Lip Crayon every couple of hours anyway.
All the make-up items fit snugly inside the little make-up bag I usually carry around in my shoulder bag, and everything else was stashed loose inside my rucksack. I think I did a pretty good job at guesstimating what I would use. Next time I will definitely take a red lip stain and an eyeshadow brush, and leave the extra lip balm, black eyeliner pencil, and nail file at home!
What make-up and other cosmetics do you like to take to festivals, or on mini-break holidays? How similar are our choices? If you would like to read my review of Latitude Festival, it's here at my other blog.