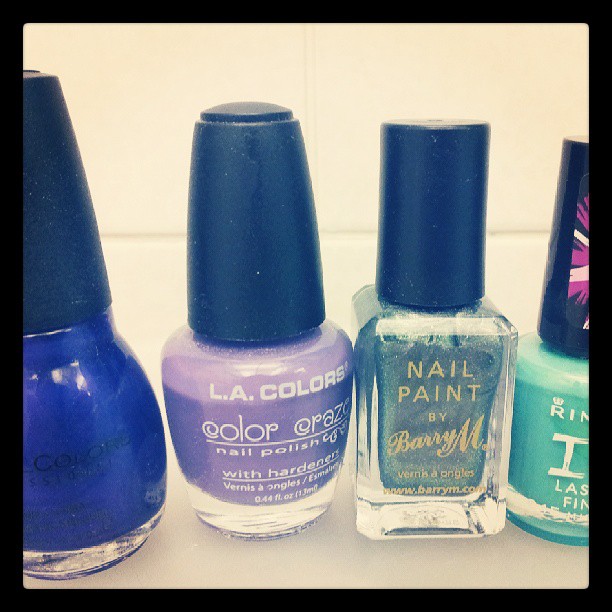 I've been engaging in the other version of window shopping (oh, the pun) a lot this week! I loved seeing Phyrra's swatches from the new Sugarpill collections. As she says, I think I might 'need' Elemental Chaos, the purple. Candycrush and Frostine look amazing too. Frostine reminds me of this pretty but aggravating Boots' Natural Collection cream eyeshadow that I have had for at least 10 years. It's always creased horribly but I can't bear to throw it away as it looks so pretty when swatched. Maybe Frostine will end my dilemma!
I also enjoyed The London Beauty Review's post about the Too Faced Return of Sexy palette. I was a little tempted to buy it, as it would be such a bargain but I have loads of similar eyeshadows.
I'm more likely to consider this MUA highlighter, as reviewed by Bleeding Beauty, though I have been trying out some of my less-pigmented pastel eyeshadows as highlighters, in order to use them up.
I haven't worn dark sparkly or shimmery blue and teal eyeshadows for a long time, despite loving the way they look on me. After seeing these looks from The Beauty Milk and Glitter is my Crack I feel really inspired to get them out and experiment again.
I've read a couple of negative reviews of the Real Techniques Duo Fibre Brush Collection, but I still found this review on Midnight Violets really intriguing. I am on the look out for a reasonably priced blush brush, and I'd like one that makes pigmented blushers easier to apply, as I have a really bright blush from Sleek that I hardly ever dare to wear as it's so difficult to blend properly.
If you have any other recommendations let me know!