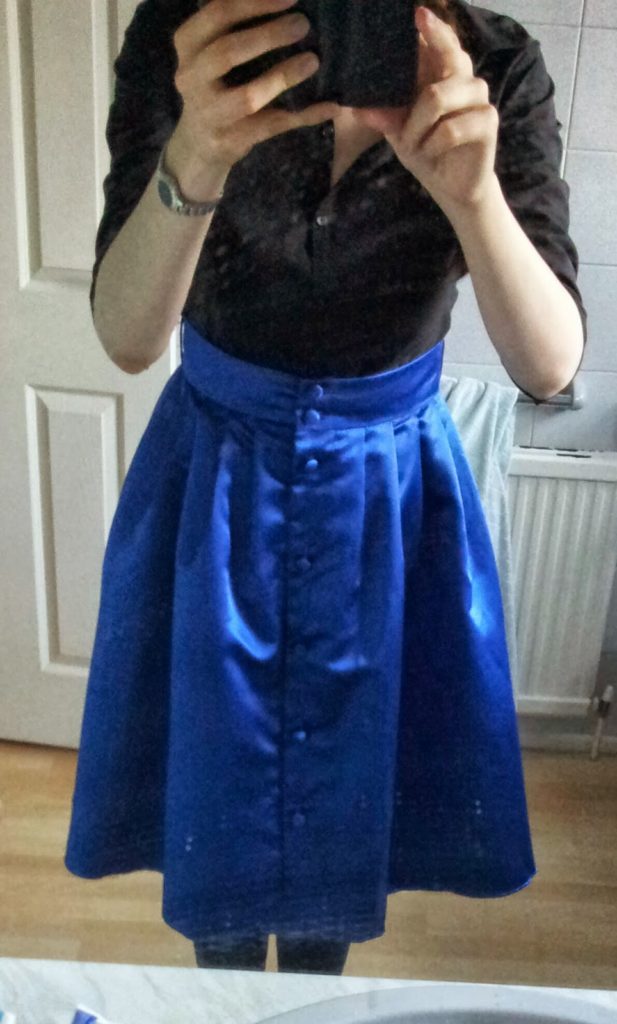 Look at this amazeballs skirt that I just bought! The bathroom mirror photo does not do it justice, I assure you. I only went into the charity shop to drop off some donations, but when I turned away from the till I saw this beauty. I looked at the tag, saw that it is a size 14, and was saddened until I took a step back. Polyester? I thought. Tulle underskirt? I detect…'80s. A 1980s size 14 is about equivalent to a 10, or a small 12. I have a couple of skirts that my mum used to wear with size 14 tags and I bought a Laura Ashley dress a few months ago that is an '80s 14. I looked at the price tag – £4.50 – and decided that I might as well try it on. And success! It is now mine and makes me feel like Alice in Wonderland and/or a Disney princess. I love it.
I also popped into Superdrug to take a look at the Revlon Colourburst lip glosses. After reading Robyn's review at Stay Beautiful, I couldn't resist seeing how bright pink Adorned really is. It is extremely bright. Maybe it's too bright. I loved it, but I'm too intimidated to buy one right now!
Lots of bloggers have been posting their autumn wishlists, but my favourite so far comes from Hannah at Daisies and Dr Martens. I love how she explains her choices and picks out accessories to wear with the clothes.
I loved reading this review of Nail It! magazine at Do Not Refreeze, it sounds great. I am also very intrigued by the review of the 2True Pro Sequins Nail Polish range.
I am determined to autumn-clean my blogs, and will definitely be working through SillyGrrl's 10 Things that shouldn't be on your blog list. Sorting out my tags will take ages and I don't think I'll get it down to 10 – I want to keep brand name tags here and author name tags on my book blog, because they're useful, but I really want to simplify things.
Finally, the cuteness this week is actually supplied by two bloggers! Kate at ghostparties shares some kitten advice and some adorable pictures, whilst The Girl Who Looks Like a Cake shows off her beautiful black cat.