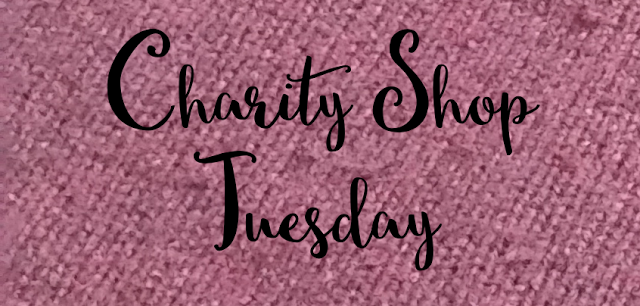 Once upon a time, I never used to buy myself sweaters (or jumpers, as we tend to call them in the UK). They were all bought for me, as gifts, and I would receive more and more every year. Then I got really into knitting, and I decided I was going to knit my own, so that they would be long enough in the body and the sleeves – most of my jumpers were a little bit too short. So I told everyone: Don't give me jumpers!
Several years later, I had not been given any more jumpers, but I hadn't made any either. I knit very loosely, which leads to a gauge problem I'm still trying to figure out. In the intervening time, I'd got really into charity shopping, so when I decided I needed more jumpers, I went straight to my favourite stores.
I wanted jumpers that weren't boring. I had previously owned too many plain jumpers that I didn't really enjoy wearing. I had my eye out for embellishments, and so I spotted this.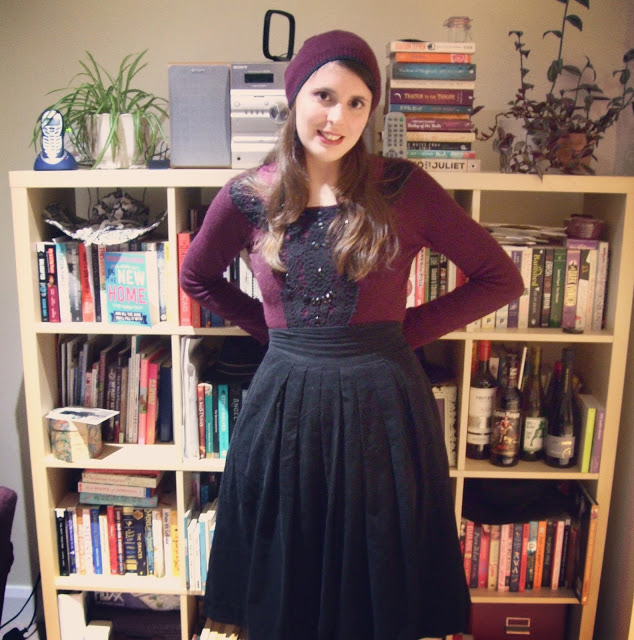 It's wine-red, one of my favourite colours to wear, and it has this lace-effect applique with beads. I tried it on and I really liked it, so I took it home. It quickly became my favourite jumper, in fact, it became my favourite jumper that I'd ever owned.
It actually wasn't because of the embellishment, it was because of the neckline. All my previous jumpers had been v-necks, and it turns out I don't actually like v-necks. They're not flattering on me and they often clash with the top I'm wearing underneath. The rounded neckline of this jumper looks so much better.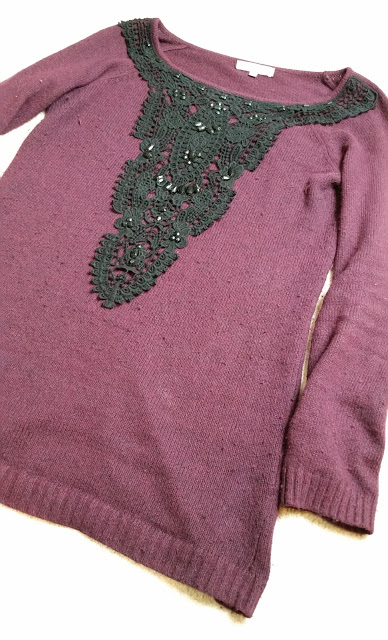 Since falling in love with this jumper, I've bought a few more with rounded necks, and I'm determined to alter some of my old jumpers to be round-necked too. I've struggled to find a tutorial though, for some reason they all seem to be for changing round-necks to v-necks, not the other way around! If you've seen any instructions, please let me know!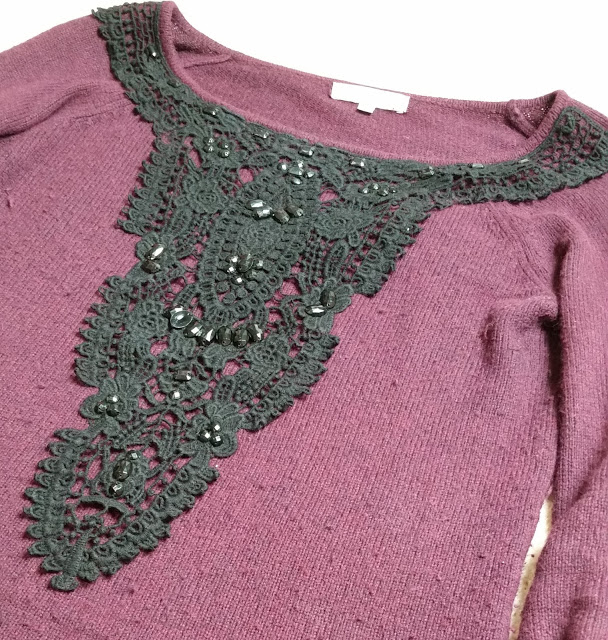 In other news, I am slowly but surely running out of items to feature! I still have plenty to get through, but if you would like to write a guest Charity Shop Tuesday, get in touch. It would be really cool to feature some other charity shop fans' favourite finds.