It's February! How are you doing with your 2021 goals? Have you set any yet? Last year, because I moved at the end of 2019, didn't have a kitchen until March, and then the pandemic happened, I didn't set any goals until April/May!
Today I have some book recommendations to help you work on your goals, whether you set them in January or are only just getting around to it.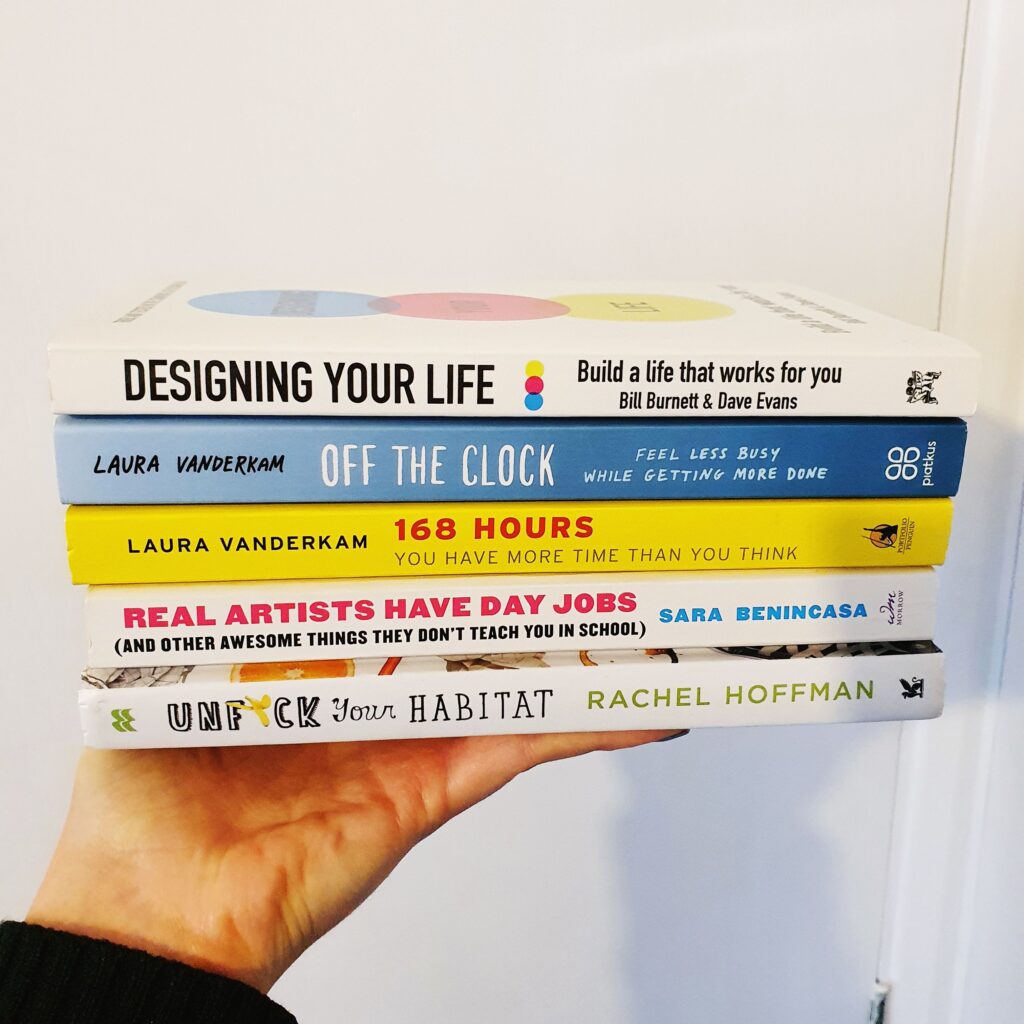 Designing Your Life: Build a Life That Works for You by Bill Burnett and Dave Evans
If you're reading this thinking 'but I don't have any 2021 goals', or you feel that the goals you've set are a bit shallow and won't have any lasting impact on your life, or (or or or!) the pandemic has put you in a reflective mood, this is the book to you. Based on a class the authors teach at Stanford (and now around the world), the basic premise is to apply various principles of design thinking to your life. I'm actually still partway through, because it's a workbook that takes some time to complete, but I really recommend it.
Buy: Amazon | Bookshop.org (affiliate links)
168 Hours and Off the Clock by Laura Vanderkam
I've said before that I think Off the Clock is Laura Vanderkam's best book, as it focuses on how to feel like you have more time for all the things you really love and want to do – and that's what your goals should be all about! But to get the most out of it, I recommend reading 168 Hours first, as background material, as it goes into a lot more depth on time tracking.
Buy 168 Hours: Amazon | Bookshop.org (affiliate links)
Buy Off the Clock: Amazon (affiliate link)
Real Artists Have Day Jobs (And Other Awesome Things They Don't Teach You in School) by Sara Benincasa
This is a really great book to have around to dip in and out of. It's essentially a collection of pep talks, in the form of short essays on various topics, ranging from the relatively frivolous to deeper reflections on mental health. You could even read one every week for a year – there are 52 essays.
Buy: Amazon (affiliate link)
Unf*ck Your Habitat: You're Better Than Your Mess by Rachel Hoffman
I've only just started this one, but I used to love following the tumblr and getting decluttering, tidying and cleaning inspiration from other fans. And I need some inspiration to keep me going on my slow decluttering journey (the problem with slow decluttering is that it's slow!)
Buy: Amazon | Bookshop.org (affiliate links)
Beginners: The Joy and Transformative Power of Lifelong Learning by Tom Vanderbilt (I received a review copy via NetGalley)
This is my most recent non-fiction read – a book about the author's quest to learn several new skills, while also researching how we learn best. He talks to various experts, teachers and coaches along the way and I got more than a few tips to apply to my own learning. If you've set yourself some learning challenges for this year, this is a must-read.
Buy: Amazon | Bookshop.org (affiliate links)
Your Best Year Ever: A 5-Step Plan for Achieving Your Most Important Goals by Michael Hyatt
Okay, let's be honest. It's very unlikely that 2021 is going to be anyone's Best Year Ever. But that doesn't mean that we can't try to make the best of it, even if we're more focused on surviving than thriving. Despite the title being slightly offputting in current circumstances, this is a really comprehensive guide to goal setting. I especially like the process the author outlines for checking in on your goals and revising them as I don't think it's realistic to assume you can and will want to stick to the same goals all year.
Buy: Amazon | Bookshop.org (affiliate links)
The Artist's Way: A Course in Discovering and Recovering Your Creative Self by Julia Cameron
If I have one small regret from 2020, it's not picking this up from my parents' house during the one day in the summer I got to visit. It changed my life when I first went through it, aged 19, and I've revisited it several times since. It's an amazingly powerful book, though the very strictly atheist amongst us may find it difficult to get through as there are lots of references to God and spirituality. If you are more agnostic, like me, then it is not such a problem as the author's ideas about God are very vague, and you can interpret them as you wish and apply them to your own belief system.
Buy: Amazon | Bookshop.org (affiliate links)
Do you have any recommendations for books to help us get through/do our best in 2021?