It's getting colder, and my poor hands are already starting to suffer. Despite the copious amounts of moisturiser that I apply every night, they are adversely affected by the weather, even on days when I do not leave my house. So, I have reached into the pink case where I store out of season accessories that do not fit into my wardrobe, and brought out all my gloves.
Keeping Hands Warm
I only have three pairs that are really suitable for cold weather. A short, black, chenille pair from Dorothy Perkins that I have had for a few years, and a long "touch of cashmere" purple pair that my sister got me from Topshop last Christmas.
Gentle reader, if there is ever one thing you must resist buying from the High Street, let it be gloves. The black pair have been unravelling at the fingertips ever since I got them. I actually had to return a first pair of these after a few days because a hole appeared so quickly.
The purple pair are lovely and soft. The colour is fantastic. I didn't wear them for a couple of months after I got them, which was a stupid mistake. When I did wear them that same day there appeared a massive hole to the left of the thumb and below the index finger on the left hand glove. I had to sew it up, and did so pretty well, but it feels awkward to wear and spoils the comfort of the cashmere.
For now I will continue to wear my often-mended pairs, because I haven't acquired the skills necessary to knit myself a pair of both style and quality. If you have such skills, why not try the urban rustic gloves, or the Broad Street Mittens, the latter of which are designed to be convertible from fingerless gloves into mittens. If you don't and are looking for mittens, these felted double-cuff mittens sound like they would be really warm.
Keeping Hands Warm Whilst You Work
What would I do without fingerless gloves? Earlier this year the pair I have (see above: purple, Marks and Spencer, no unravelling as yet, but they are not very soft) saved my hands from many aches and pains as I sat in cold rooms and lecture theatres at university, trying to take notes. In fact last year as I walked to uni, I would wear my fingerless gloves and then normal gloves on top! It was seriously cold!
Fingerless gloves are apparently easier to knit than the full-fingered variety, and the fantastically cool Knucks are very inspiring. However, Etsy is full of wonderful, original ready-made fingerless gloves. My favourites are these spiral gloves, the design is super-stylish and is the creator's best-seller. I think they would be a talking point because they are such an original design. I am also quite enamoured of these purple and lavender arm warmers (I wonder why?), I think they are the funkiest thing ever. Please people, let's bring back the word "funky". I miss it. Erm…these bobbly little "glovelettes" are cute and cool, but if you prefer a vintage look, these lace cuff fingerless mitts are 100% cashmere and very decorative. If you need something a bit longer, these snuggly warm merino armwarmers are plain but luxurious, and very well priced – by which I mean cheap – 100% merino, handmade, for only $35! The shop has several colours available. Definitely belonging on the dark side are these lovely merino striped fingerless gloves…drool.
Glamourous Hands!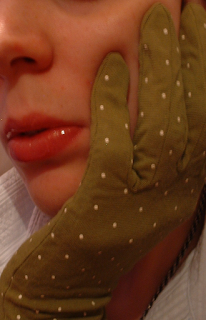 Not all gloves are practical, some are just beautiful. These are the type of gloves that you wear in autumn (a time that seems sadly to have passed in Britain), spring, or to evening events when you will be going directly from carriage to venue. These are slightly harder to track down. Meet my frivolous gloves! To the left you will see a green stripy little one. This was passed down from my grandmother. I recently rescued this pair from a pile of scarves that my sister had stuffed in a carrier back. I think they are so sweet and am looking forward to getting more wear out of them next Spring!
Below you will see a long pink evening glove. I love these gloves! They were from a stall at last year's Clothes Show Live, and are supposedly vintage, but even if they are not they are still so much awesome. In real life they are a darker version of the colour you get if you write "magenta" as the font colour in HTML. I am such a nerd. I often describe aqua blue similarly. "OMG! It's aqua! Like the font colour!"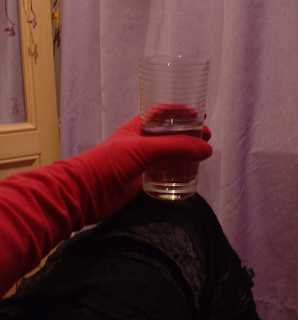 To assist you in finding yourself some glamourous gloves, I recommend Ebay. They are harder to find on Etsy, although I did find a few gems. These soft scarlet baby kid yarn gloves, for instance, and some silver grey sheer evening gloves, with delicate embroidery. You can also make your own pretty pair, if you have the skill, I think that Carpathia is too fine and delicate a design perhaps to keep your hands warm, but it would look very pretty.
Of course, one does not require a special event to get one's fancy gloves on. One can be posh and utterly faaabulous when doing one's washing up too! Aggie MacKenzie is a inspiration to us all, really, darlings, but please don't follow glove etiquette to the letter, it can transform one into an awful bore. Wearing giant rings on top of one's gloves is perfectly stylish, if you ask me…