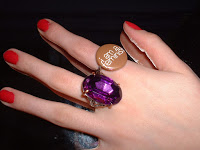 Purple ring from Disney World, i am a feminist ring made from an old adjustable ring and a badge from MYMY.
I am a massive fan of big, colourful rings but they are not a particularly popular piece of jewellery. I think that this is for several reasons. Rings are quite a bit of hassle, they get in the way if they are too big, and in hot weather they can get tight on your fingers. Cheap rings also tend to fall apart quite quickly, because most people use their hands a lot. I have a ring which was an adjustable band with a butterfly on it. It was really pretty and I adored it but unfortunately the butterfly bit broke off when it got hit by the plastic flap on the ticket machine at a station. Yes. The plastic flap. Fortunately there were two of these rings at the charity shop that I bought it from, so I am going to return and see if I can get the other one. Then I will only wear it for special occasions, which makes me quite sad because what is the point of a lovely ring if it isn't seen by as many people as possible?
The solution to the problem of rings has three parts.
1. Take them off to write, eat and do anything involving electricity.
There is no law that states that rings have to be practical enough to be worn at all times, or that one cannot line up one's rings by one's dinner plate.
2. Buy adjustable rings.
They can fit your finger whatever size it is that day, and they are far easier to get off – you can just pull them apart if you have to.
3. Buy rings you could fix yourself, or sturdier, more expensive rings.
I'm sure I don't have to explain why.
An example of both a fairly sturdy ring and one that you could fix yourself is this Cloisonne Ring, and another is this Copper and Emerald one. Copper wire is really easy to find but it looks like enough was used to make it quite a strong ring that won't squash easily. The advantage of copper is that it is quite flexible, the disadvantage is that it can stain your fingers green! This is easily solved by making sure you give it a good coat of clear nail varnish.
If this Elven Forest inspired ring were to break in two, it would probably be possible to use some wire to secure it together again. It's made to order so it might be possible to request an adjustable fitting.
Rings that feature a flat disc attached to a ring base, like this vintage style flapper girl ring , or the Leaf Me Be Ring are often easy to repair with a drop of glue. I have one similar ring that I repaired once with a square of double-sided tape – it lasted for years, but I think that using the strongest glue possible is the best idea in that situation.
More expensive, more sturdy and hardwearing rings do not only include the dull, small variety that you can find at the jewellers. Tarina Tarantino, queen of ostentatious, colourful-to-the-point-of-being-horrendous-on-occasion accessories, has a selection of rings. To be honest I am appalled by the mere thought of a Hello Kitty or Barbie ring but I really like the cameo, tea-party and cocktail rings. They are big, bright and shiny. In terms of materials, sterling silver is a good bet as well as brass. Plastic and thin copper are less likely to last.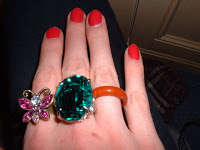 The no-longer-intact Butterfly ring, another Disney World ring – this time in green, and a carnelian ring.