The Sleek i-Divine palettes have become very popular since they were first released. Charging £4.99 or less for 12 mineral-based highly pigmented eyeshadows, unsurprisingly, equals success. There is a permanent range, but Sleek also bring out regular limited edition palettes. Sunset, as far as I can tell from various blogs, was a limited edition palette that was added to the permanent range.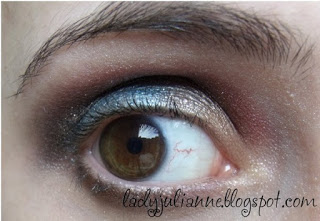 The blending looks much better in real life. Honest.
This is the second Sleek i-Divine palette that I've owned. The first was the Graphite palette, a collection of blacks, greys, silvers, and purples, with two highlight colours, a white and a pale peach. I won't be doing a separate review of that – it was limited edition and sold out a couple of months ago. If you spotted this, let's be honest, perfect palette for anyone who is of a gothy inclination and loves purple (i.e.: me) in your local Superdrug and bought it, well done. If not, write to Sleek and ask them to make it again! I would love to buy another one!
The Sunset palette is less of an obvious choice for me. It was a Christmas present, and contains a black shade, three reds, two browns, an orange, a bronze, a gold, a blue, and two pinks. The browns and the orange I am unlikely to use. I can only use properly neutral gold and brown shades, anything warm toned makes me look ill, and these browns are probably too warm, as they have visible specks of orange in them.
The reds are fine, especially blended into purple, black or bronze, but the brightest shade is the best, the others are ever so slightly brown. The pinks are nice, both have a gold shimmer to them and if I pick up some white eyeshadow on the brush with them I can use them as highlight shades. The bronze is neutral but very shimmery, but the gold is less impressive, though it blends more easily. That bronze will dominate everything if you aren't careful! The black is really pigmented. I picked up a tiny amount on the brush today, but found that I could only use that brush then to dab the eyeshadow sparingly onto my lids. I had to use another brush to actually blend it, otherwise I would have had black everywhere, and even then I had to do a bit of a repair job with the bronze! The blue looks like a lovely bright colour but is at the other end of the pigmentation spectrum to the black, and I have to put loads on to get it as bright as it looks in the palette. It was a bit of a disappointment, but on balance the palette is still brilliant.
The eyeshadows are all very soft and easy to blend as long as you work fairly quickly, however I find that Sleek's eyeshadows really need a good base, and when I say a good base, I mean Urban Decay Primer Potion, because the cream eyeshadows I can get away with using under Aromaleigh just won't cut it for these. Without UDPP I find that by the end of the day half the colour has vanished, especially with the blue shade, I could hardly tell it was there by the end of the last day I wore it.
Today all but one of the eyeshadows I am wearing are from the palette. Here's a step by step:
1. Bronze shade in inner half of lids
2. Blue shade on outer half
3. White from really old Body Shop set under eyebrow
4. Middle-red (second from bottom left if you've got the Sunset palette) in crease
5. Black applied in outer corner of crease and on lower lids. Horrible mess made.
6. Bronze applied from inner corner of crease going outwards and along lower lids to cover up OTT black. Horrible mess repaired!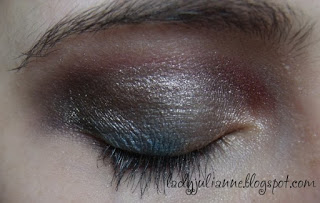 The blue had already started to fade after I'd been wearing it for about half an hour and got the camera out.
They come packaged in a black plastic case with a mirror in the lid and a double-ended foam applicator. The website says "Best applied with the applicator enclosed". This is not true. I do not recommend you use the applicator unless you're doing a tiny touch-up whilst you're out and about. It will take you ages and ages to cover your lids using it and blending will go horribly wrong. I speak as somebody who used the enclosed foam applicators from loads of eyeshadow pots until I discovered brushes less than a year ago. I will never go back. I'm currently using GOSH eyeshadow brushes that I bought during a 3 for 2 promotion after reading
this review at Lipsticks and Lightsabers
, and they are great.
Sleek products are available from some branches of Superdrug (usually the bigger ones), to find the nearest to you use the Store Finder on
their website
. They are also stocked in some independent stores, but there isn't a list available. International customers can order online.