If there is one thing that is likely to get me posting on this blog, it is Halloween. Let's be honest: it's Goth Christmas. Sure, giving presents isn't traditional on Halloween (YET!), but it has a much better aesthetic.
I realised yesterday that there's little over a week to go until the first day of Halloween. I personally celebrate 13 days of Halloween. 12 days of Christmas, 25 days of my birthday, and 13 days of Halloween. Plus there's all the stuff in the run up to it, which I class as the Halloween equivalent of Advent. Anyway, I haven't even started wearing my pumpkin-with-a-moustache badge yet, and it's already the 23rd! Dire.
Desperate times call for spooky measures, and I have decided to write a short series of posts all about the upcoming/already beginning festivities.
Hopefully I will write a post about the Halloween-related goods available in various shops, as soon as I get the chance to run around and check them out (Edit: sorry everybody, I tried but I was too late!). So far, however, it is looking like the best Halloween so far in terms of the available relevant merchandise. Tesco has glow-in-the-dark nail polish on sale and my boyfriend got me this awesomely tacky goblet from Poundland.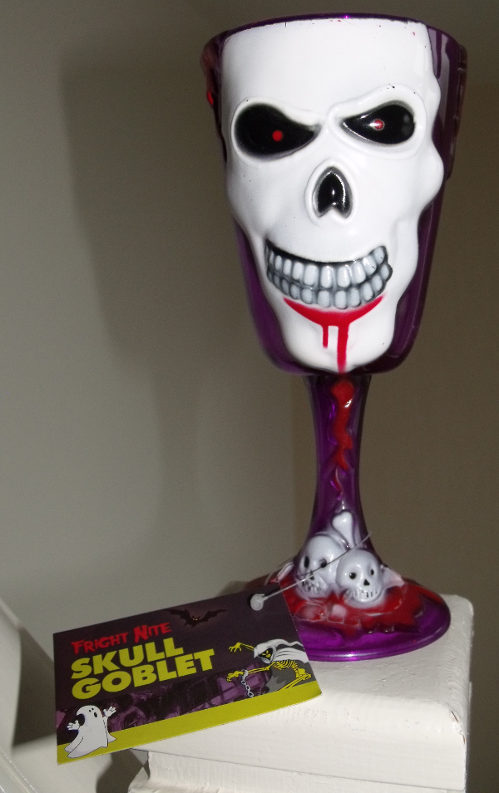 (And it's purple. Win)
I will do a quick round up of Halloween costume links. I am not very good at coming up with costume ideas on my own. However I am very good at Google and at remembering which blogs have offered excellent contributions in past years.
But first, I will put together a list of Halloween events in London. I already had a few ideas – I'm subscribed to plenty of venue mailing lists and follow even more on Facebook/Twitter – but I've been checking the Time Out website obsessively for the past few days and have finally been rewarded with their Halloween in London guide. I'll have a dig through and see if there's anything that looks particularly cool/cheap that I can add to the list I've been preparing, then it'll be good to go!
Are you excited by Halloween? Have you been preparing already?