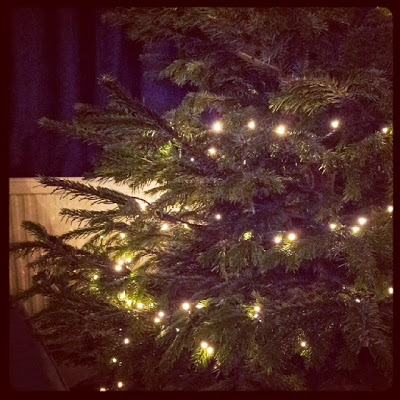 Christmas tree stage one!
Advent has begun and I've been so distracted worrying about presents and planning outfits I completely forgot about posting my Monday Amusements yesterday! And I'd been doing so well since I decided to make it weekly! Anyway, I realised earlier today and quickly put together a small but brilliant (I hope) selection of links for you.
'Tis the season to be sparkly, fa la la la la la la la la, and I want to make the most of it. I've been documenting my nail polish experiments on Instagram as usual, and greedily reading make-up blogs in search of festive inspiration. I'm wearing blue right now but will have gone gold by the end of the week, a la Blush. Feathers. Lipstick.'s Golden Fairy Dust Christmas Nails. I was planning to work my way through my greens and reds after that, but after seeing Do Not Refreeze's Snowflake Nail Art, I might go straight back to blue! Maybe if I practice I might be able to manage one nail's worth of snowflake art!
Next up, a few lists! Makeup Savvy has a list of all the gifts with purchase available when shopping in Boots this Christmas season. I will definitely be checking it when planning my shopping trips! Isn't it great when you get a GWP when buying things for other people? You can give them something extra for no cost…or keep it for yourself!
I may have posted this before as it's a year old, but it's amazing! 7 Ways To Spike Your Hot Chocolate as shared by Zoetica Ebb.
Less frivolous is A Thrifty Mrs' list, Gifts that will make a difference to those who are living on a tight budget. I think the suggestions are fantastic, I love slow cooked dinners, the meat is always so soft and delicious.
Finally, a corgi on a carousel! I doubt you'll want to watch the whole four minutes, but I couldn't stop laughing, the corgi seems to love it so much!