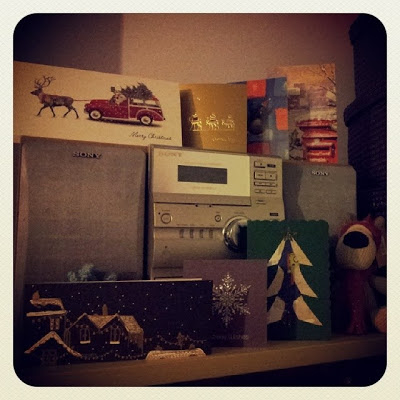 Arranging my Christmas cards. My micro hifi, which I've had for about twelve years now, makes a great stand!
I've been so busy for the last week that I've hardly had time to look at the internet, but I'm finally starting to get all my Christmas stuff pulled together and soon it will be time to relax in front of the Doctor Who Christmas special!
On Tuesday I went to
BB Bakery
in Covent Garden, where the crockery is very pretty.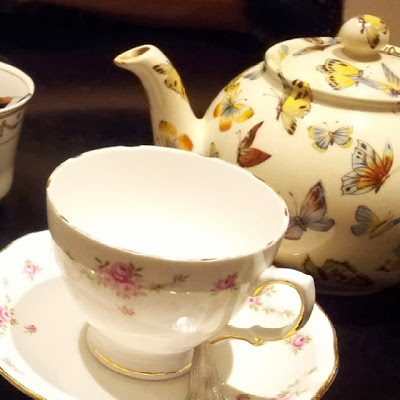 They have some really lovely cups and saucers and teapots, but it the decorations are almost too twee! Luckily the food is delicious, if pricey, a perfect lunchtime treat.
Afterwards we headed to Liberty to look at makeup. I didn't buy anything because I'm under a self-imposed make-up buying ban. I've been sticking to it fairly well, I haven't made any
Aromaleigh
or
Fyrinnae
orders and have resisted all but the most brilliant nail polish offers! However, I watched Lisa Eldridge's
Colourful Glitter Party Eyes
tutorial last night and now I really want everything she used! I have almost used up a couple of glitter eyeliners, so maybe…
I have been really enjoying the
Dreams That Glitter
'
Shop a Handmade Christmas
' posts. I love discovering new independent online shops and daydreaming about placing large orders! Makeup Savvy's
Christmas Decorations 2013
post also helped ensure I got my weekly quota of eye candy. One day, I will have my own tree…
Caroline Hirons, skincare expert, is hosting what I personally believe must be the greatest cosmetic-related series of giveaways ever, the
12ish Days of Giveaways
.Finally, Theo and Thea's Christmas 2013 in New York (via
Cute Overload
). Theo and Thea are cats 🙂