Revlon 'Star' over a pearl-white no-brand polish from a 2012 'Flutter' (Superdrug) Christmas gift set (both discontinued, I think, but try eBay)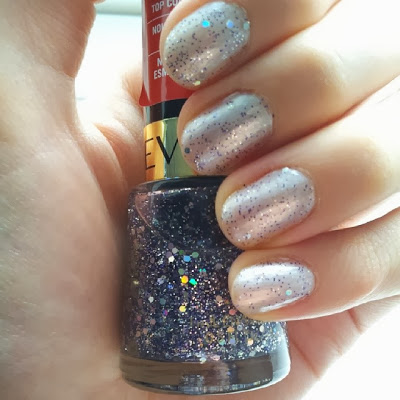 I decided that 'tis the season to be sparkly, and that I would wear as much glittery nail varnish as I could in December! I absolutely loved my first attempt, featuring Revlon's 'Star', which I'd tried for the first time
in November
. It looks much better over this white than it did over the dark purple Rock, and I'm looking forward to trying it out over lilac next! This had really good lasting power, I added a second coat of 'Star' after a couple of days and there was minimal tipwear.
Barry M 247, a limited edition available in Superdrug during the 2012 festive season (try eBay)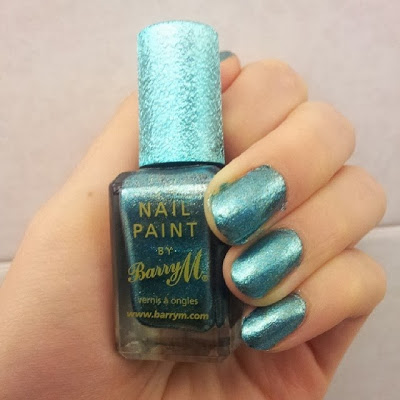 It
doesn't really show up on camera but there are gold flecks in this,
it's not just pale teal. I would have liked it more if it was just pale teal, though it does look beautiful,
all the same. Unfortunately, after the first day it started to flake off, mostly at
the tips. I thought that this problem may be solved with a top coat, so I applied another coat of 247 to cover the damage and then…
Models Own 'Sparkler' from the Fireworks Collection (£5), over Barry M 247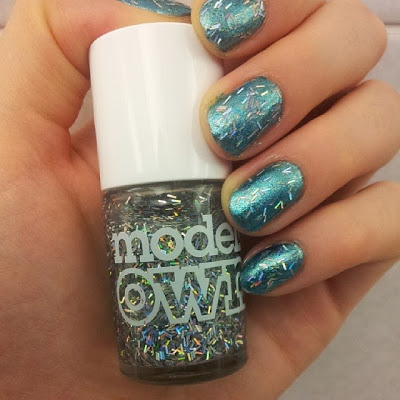 This is the second Models Own nail polish that I have tried, and the second from the Fireworks collection (
the first was 'Banger'
).. 'Sparkler' only needs one coat to look like this, but
it feels very gritty and the bar glitter gets
caught on stuff and torn off without a protective topcoat, so I added a coat of
Barry M's Basecoat, Topcoat and Nail Hardener on top. Tip wear is
very minor after three days. This combo made me feel very Snow Queen
and got a LOT of compliments.
Revlon Gold Coin over Colour Unlimited (Superdrug) bronze glitter from 2012 Christmas gift set (both discontinued, I think, but try eBay)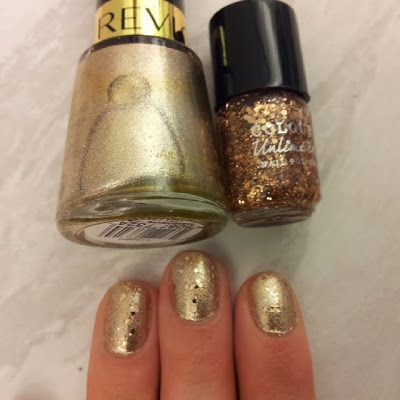 For my work party I decided to wear gold and red, and I thought Revlon's
'Gold Coin' would go nicely. But it wasn't sparkly enough for my mood so I dug out this bronze
glitter from a Colour Unlimited gift set that came out last Christmas. I wasn't sure the combination would work but I love it! After two days there was a fair bit of tip wear but no chipping.
2true 'Naomi' from the Pro Sequins range (£2)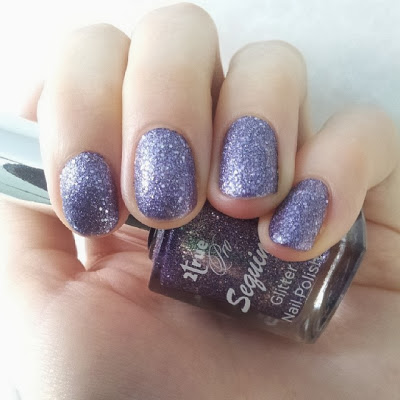 This is AMAZING. It looks like you've packed glitter onto your nails
but has a kind of muted shine. I didn't put top coat on as I thought it
would chip easily and wanted to test that, but I wore it for several days and it didn't chip at all, though there was a little
tip wear. It feels gritty, but I quite like that effect, so I'll
probably continue not to bother with a top coat in future. It's such a bargain too! I'd never tried a 2true polish before I saw this review at Do Not Refreeze and decided to buy 'Naomi' but I will definitely look at the stand in future!
Models Own 'Absinthe' from the Velvet Goth Collection (£5)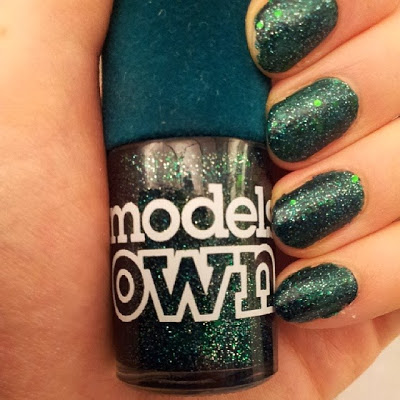 Finally, I chose green for Christmas and Boxing Day (and several days after, because I loved this so much I couldn't bear to take it off!). This is very pretty, and I admired my nails a lot, but it chipped on my
left index fingernail after less than one day of wear. It's also quite
thick, thanks to the matte texture, I think, and difficult to apply
smoothly. In the end though, the result is worth it, if a little lumpy, and I found that I liked it more after the first couple of days, when it stopped looking as matte.
I'm really pleased with how all my Christmassy nails came out. I will definitely be repeating these combos in future! Did you paint your nails to celebrate the season? Try any festive nail art?