I have a lot of clothes. So many, in fact, that they're spread over two wardrobes in two homes. Currently, most of my summer clothes are in my flat and most of my winter clothes are at my parents' house. Over the next couple of months I'll be swapping them over again, rediscovering old gems, and hopefully keeping myself inspired and excited by my clothes so that I resist the temptation to buy any more.
I am trying to save money, and also live a slightly more streamlined life – I'll never be an minimalist, but I'd like to get rid of some of the excess, and most importantly, stop buying more.
With all this in mind, I decided to start this new weekly blog series in which I will show you something I bought from a charity shop in the past, and tell you why I bought it, and why I love it. I want to inspire more people to give charity shopping a try, and this should also serve to remind me that I don't need any more clothes!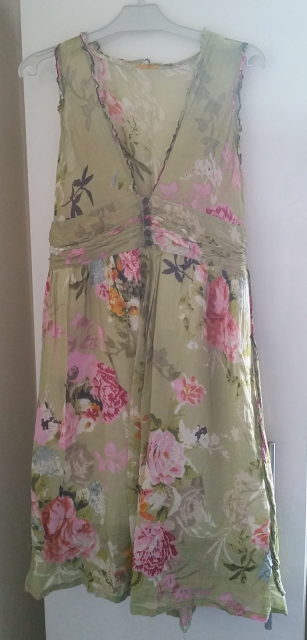 First up is this green floral dress. The year I bought this dress I'd got the idea in my head that I wanted to look all ethereal and nature-loving. This notion wore off pretty fast, because it is difficult and kind of boring to try to look ethereal and nature-loving when you are assertive, witty, and wasp-fearing.
But I still love this dress. It is fun to pretend to be those things sometimes, even if you're only actually walking to the shops. I imagined going to lots of barbeques and for walks in the park in this dress, and wearing it with Doc Martens for the contrast. Plus, if you wear a blazer over the top of any dress you look 400% more assertive, so I often do that.
It is not the best quality. It doesn't have a brand label, only a fabric information one (100% cotton, apparently), and the fabric is very thin, translucent and delicate-feeling. It was also originally a little too low in the bust, but a few stitches at the top sorted that out.
It ties at the back, which is cool. Because the fabric is so thin, it's really comfortable on hot days, though I do need to be careful what bra I wear as it's not lined above the waist.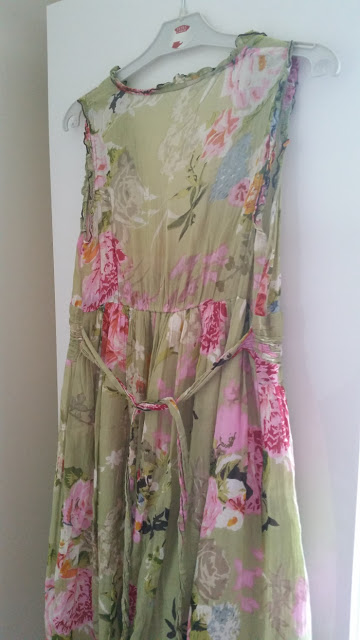 The only thing I don't like about it so much is the brown trim and the brown buttons. I abhor brown. As far as I am concerned, brown is the worst colour for clothes. My hair is brown. My eyes are brown. That is enough brown for me, ta very much. I may try removing the brown by stitching over the trim in embroidery thread and replacing the buttons. Maybe in purple, because this dress doesn't have any purple on it. I have to always wear purple accessories with this dress, so that my friends and family feel comfortable and don't start to worry that I'm feeling ill or the world is ending.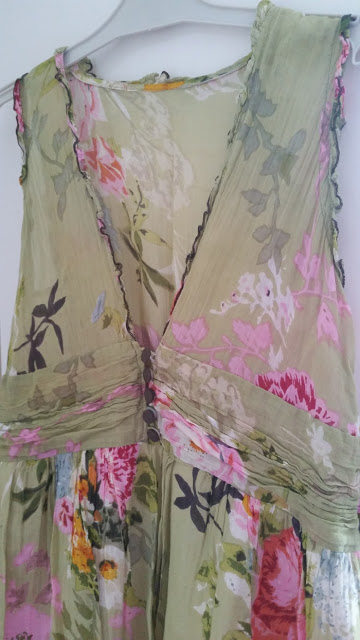 I don't know why they worry about the latter. If the world was ending I would definitely be wearing purple, like a security blanket. My most comfortable boots are purple. I mean, come on.
Have you ever blogged about your favourite charity shop purchases? Let me know!