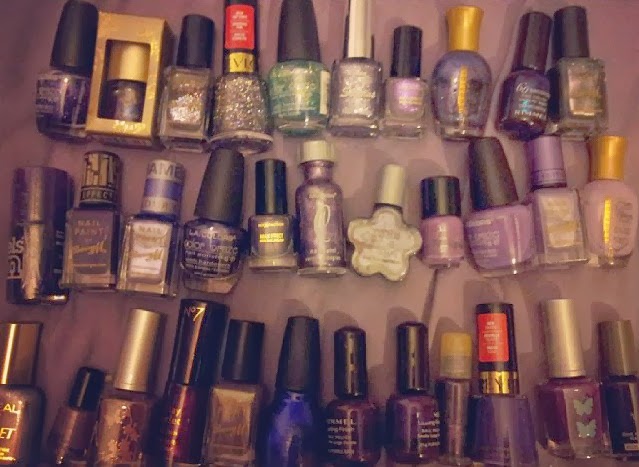 Almost all of my purple nail polishes. This is why I'm on a no-buy.
Even though I do live in London, I loved Kate at gh0stparties's 5 Things: Blogging Outside of London post. London is so familiar to me that although I like reading about other Londoner's new discoveries and old favourites, I actually enjoy reading blogs by people in other parts of the UK more. It's like going on a little holiday in my mind and it's really handy to have those blogs to refer to when I do actually get to visit those places!
Stay Beautiful features a super-cheap dupe of Benefit's Porefessional.
I've never tried a matte lipstick and I'm not sure that it would suit me, but nonetheless, Katie's Beauty Blog has got me lusting after the new Revlon Colourburst Matte Balms.
I'm feeling like I'm in a bit of a hairstyle rut. Dreams That Glitter xoxo may have the answer.
Jane at Blush. Feathers. Lipstick. is giving away an ELF Disney Villains Maleficent Look Book. I love Maleficent and am quite excited about the movie. Hopefully it will be better than Once Upon a Time, which I am only just about still watching!
Hellcandy has launched a YouTube channel with a step-by-step eyeliner tutorial. I have watched and loved many an eyeliner tutorial in my time (here are some of my favourites) but I have to say that this one is still useful! I really like the way she describes angling her hands.
The last moisturiser I tried has turned out to be a bit of a dud, so Sparklyvodka's Moisturiser Medley has come at the ideal time.
Finally, the cutest catfight of all!